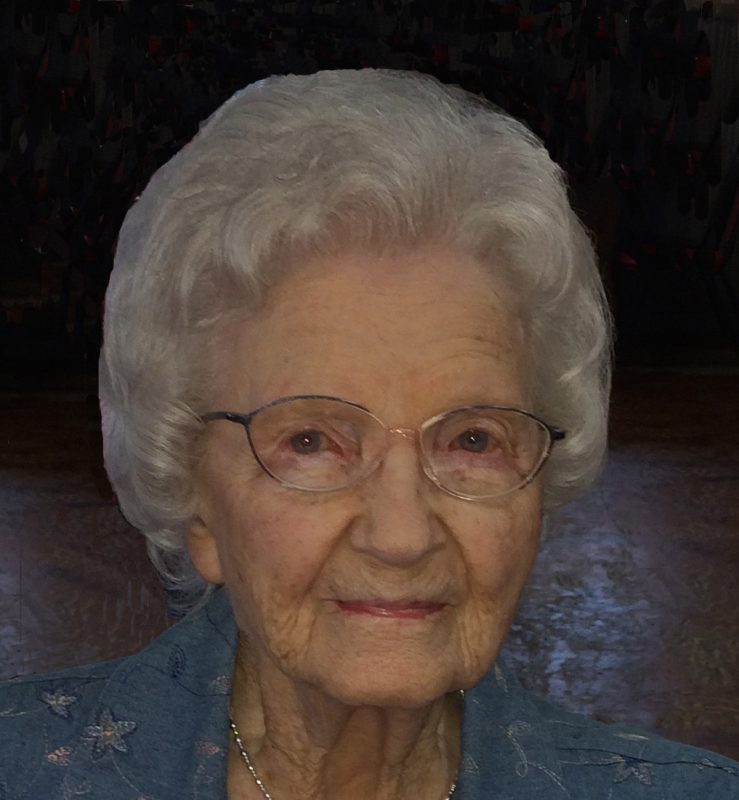 Audrey Faye Stocks Moore who was born August 20, 1918 at home in the New Hope community of Franklin County, TX, to Ike and Darthie (Alexander) Stocks died on July 20, 2018, in Mt. Pleasant, TX.
Audrey died just one month before her 100th birthday.
She attended New Hope school where she played basketball. Audrey graduated from Mt. Vernon High School in 1936. On May 28, 1938 she married Roy E. Moore in New Hope Community where they raised their three children, Lanora Jean, Gaylon and Bennie. They were married for 46 years.
Audrey was a lifelong resident of Franklin County as well as a lifelong member of New Hope Baptist Church. She loved her family and spent many hours planning and cooking for the many occasions they celebrated. She cooked many, many pans of cornbread dressing and many more pecan pies throughout the years. She also spent countless hours canning produce from the family garden. All done for the love of her family!
Audrey was preceded in death by her parents, her husband, 2 sisters, Myrtle Burgin and Winnie Elledge and 2 brothers, Lokey Stocks and A.D. Stocks.
She is survived by her daughter, Lanora Jean Moore Anderson and her husband Billy Jack of Mt. Pleasant; 2 sons, Gaylon Moore and his wife Jean and Bennie Moore and his wife Avery all of Scroggins, 3 Grandchildren; Darthie Anderson, David Anderson and his wife Phyllis, and Jeffrey Moore and his wife Kristine, 9 great-grandchildren and step-great grandchildren Phillip Anderson, Brittany Anderson, Joshua Moore, Elizabeth Moore, Jhonatan Moore, Mariaelena Moore, Talia Moore, Shannon Sharpton, and Derick Warren; 7 great-great-grandchildren and step-great-great grandchildren,Cheyenne, Mason, Tanner, Zak, Kolton, Alice and Lydia; nieces, Carolyn McCuine, Gale Stocks, and Judy Stocks.
A Visitation will be held on Monday, July 23rd, 2018 from 1:30 pm to 2:30 pm at Beaty Funeral Home-Winnsboro 816 W. Broadway Winnsboro, TX 75494, followed by Funeral Services at 2:30 pm in the Beaty Funeral Home Chapel. Mr. Larry Black officiating, interment will follow at Bethel Cemetery in Scroggins, with her sons, Gaylon Moore and Bennie Moore, grandsons, David Anderson and Jeffrey Moore, great-grandsons, Phillip Anderson and Joshua Moore serving as pallbearers.