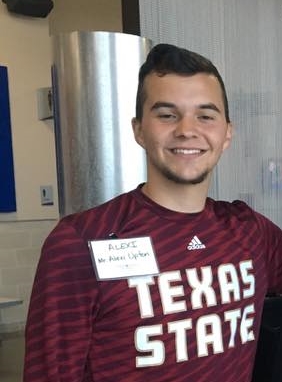 Alexi Upton is the Wildcats new head soccer coach. Coach Upton attended the SSISD summer soccer camp Monday night (June 25). Coach Upton played for former Wildcat Colby Peak at Mesquite Poteet and he graduated in 2013.
Coach Upton said Mesquite Poteet played the Wildcats in the playoffs at Lindale in 2013 and Poteet won. Ironically, one of the Wildcats on the field that night was Tony Bravo, who was helping out with the soccer camp Monday night. Coach Upton said Bravo is a great guy. Coach Upton also admires Coach Peak, now at McKinney Boyd. Coach Upton said he uses Coach Peak as a reference. He said Coach Peak preaches great values and Coach Upton said he tries to use those values where ever he goes and whatever he does.
Upton last coached at Baytown and Coach Owens hired Coach Upton as he was also considering being as assistant for former Lady Cat Soccer Coach Jesus DeLeon at Texas High. Coach Upton said he likes his teams to play at a fast pace and be aggressive on offense while being smart on defense. He said he wants hard working kids and he added he's heard the kids at Sulphur Springs are hard working. Coach Upton said he wants to challenge Mount Pleasant for the district championship.