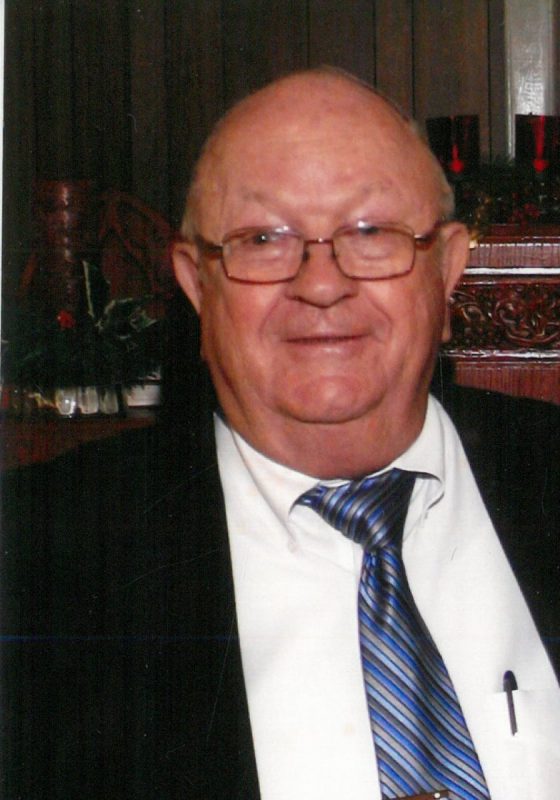 Funeral service for Rev. Charles James Rawlinson, age 83, of Sulphur Bluff, Texas will be held at 10:00 A.M. on Tuesday, June 19, 2018 at Murray-Orwosky Funeral Chapel with Rev. Robert Burns and Tony Hurley officiating. Interment will follow at Fairview Cemetery with Richard Wayne Rawlinson, Chad Brooks, Charlie Brooks, Chandler Brooks, Joshua Narvaez, Brendan Greer, Jeff Acker, and Mike Womack serving as pallbearers. Honorary pallbearers are Carter Wayne Rawlinson and Brock Ezra Brooks. Visitation will be held from 6:00 to 8:00 P.M. on Monday, June 18, 2018 at Murray-Orwosky Funeral Home. Rev. Rawlinson went to his heavenly home Friday, June 15, 2018 at his home surrounded by his family.
Rev. Charles James Rawlinson was born August 27, 1934 in Sulphur Bluff to William Tandy Rawlinson and Elzada (Reed) Rawlinson. In 1956, he married Shirley May Murray; she preceded him in death. He married Peggy Ann Whitten in 1975; she preceded him in death. He later married Judy Diane Cox Mitchell on January 1, 2012; she survives. Bro. Charles attended Sulphur Bluff School until the age of 16 when he had to drop out so he could go to work to support his family because his father had fallen ill. He later completed his education and attended Criswell Bible College where he earned his Bachelor's degree in Ministry. He became a licensed minister on April 7, 1971 at Boles Memorial Baptist Church and was ordained as minister at Park Missionary Baptist Church on March 5, 1975. He served as pastor of four churches in his 50+ years of ministry. He was pastor of Park Springs Baptist Church in Dallas for 21 years, after which he never thought he'd preach again because of throat cancer surgery. However, God was not finished with him. He then ministered at Rockdale Baptist Church for four years, Independence Baptist Church for five years, Martin Springs Baptist Church for five years, and returned to Independence Baptist Church for an additional ten years until God called his servant home.
Bro. Charles is survived by: wife, Judy Rawlinson; sons, Charles Richard Rawlinson and wife, Treva, of Venus, TX, Jimmy Don Rawlinson of Sulphur Bluff, John William Rawlinson of Alvarado, TX; step-son, Richard Wayne Greer of Dike; daughter, Terry Lynn Rawlinson Brooks of Alvarado, TX; step-daughters, Corlis Barrigan and husband, Kurt, of Grand Prairie, TX, Jennifer Lee Delz and husband, Mark, of Spring, TX; twenty grandchildren; twelve great-grandchildren; sisters, Nancy Emerson of Paris, TX, Helen Starrett and husband, Doyle, of Sulphur Springs, Betty Alexander of Achille, OK; and numerous nieces and nephews.
He was preceded in death by: his parents; grandson, John Eakins; two brothers; two sisters; and nephews, Tommy Starrett and Billy Emerson.
Funeral arrangements are under the direction of Murray-Orwosky Funeral Home.