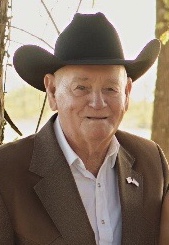 Graveside service for Octave "Sugar Man" Woods, age 86, of Miller Grove, TX will be held at 10:00 A.M. on Monday, June 25, 2018 at Pippin & Hill Cemetery, Miller Grove, TX  with Mark Garrett officiating and  Ryan Evans, Reece Evans, Shawn Sears, Colby Hoover, Cy Carter, Brett Garrett and Mark Garrett serving as pallbearers and Joe Bailey Watkins, Matthew Cox, Mac Garrett, James Ragan, Rodney Lennon, Brian Lennon, Kris Childress, Mike Hoover, L.R. Stracener, Rodney Green and David Hoover serving as honorary pallbearers.  Visitation will be held from 5 to 7 P.M. on Sunday, June 24, 2018 at Murray-Orwosky Funeral Chapel.  Mr. oods passed away on Friday, June 22, 2018 at his residence.
Octave Woods was born on July 5, 1931 in Peerless, TX, the son of Edgar and Golden Woods.  He married Linell Barrett in Hopkins County on July 4, 1954.  Octave served in the U.S. Army during the Korean War.  Throughout his lifetime, Octave worked as a tractor mechanic, salesman at the Banks Company, Gillis Construction, Hopkins County Commissioner, Dairyman, Wingo Feed, and a rancher all his life. Octave was a past member of Miller Grove School Board and Miller Grove Water Board.  He was of the Baptist Faith.
He is survived by his wife, Linell; daughters, Patti Lynn Cox of Lindale, Lori Lane Evans of Roxton, Mary Lou Hoover and husband, David of Emory; grandchildren, Ryan Evans and wife, Stacie, Reece Evans and wife, Mallory, Carla Sears and husband, Shawn, Matthew Cox, Courtney Carter and husband, Cy, Colby Hoover and wife, Brittani; great grandchildren, Kalin Watkins, Joe Bailey Watkins, Ryder Evans, Cameron Sears, Ryle Evans, Hayden Sears; sister, Sue Shawbell.
Octave was preceded in death by his parents; brother, Freddy E. Woods; sister Melodine McCool; sons-in-law, Ricky Evans and Cecil Cox; grandchild, Robbie Evans; great grandchildren, Callen Carter, Cayle Carter and Conley Carter.
Funeral arrangements are under the direction of Murray-Orwosky Funeral Home.