A huge oak tree, estimated to be over 100 years old, was uprooted by brief high winds and heavy rain on the evening of June 7, 2018 at a home off CR 1163 in the south part of Hopkins County. The storm first affected the western side of Hopkins County with dark clouds, lightning and brief downpours, then tracked along the southeastern part of the county. After it passed through the Brashear to Miller Grove areas, it caused this great tree to fall in the Bonanza community, just steps from the home's front door.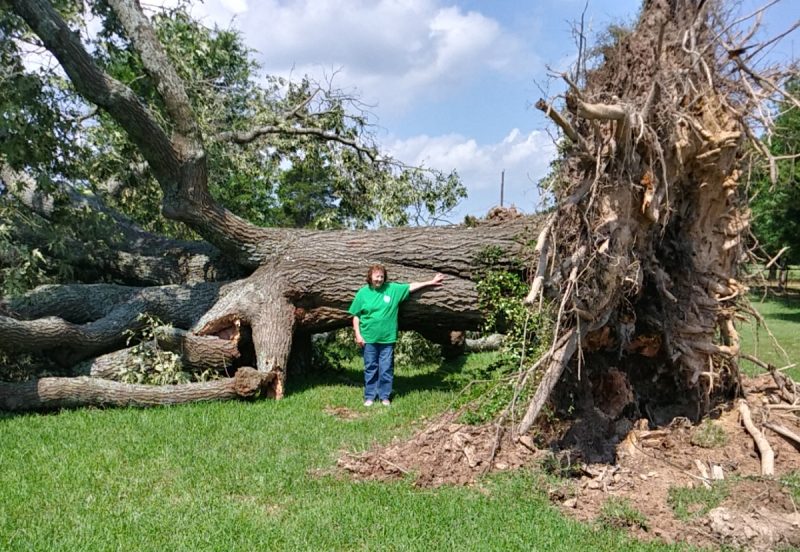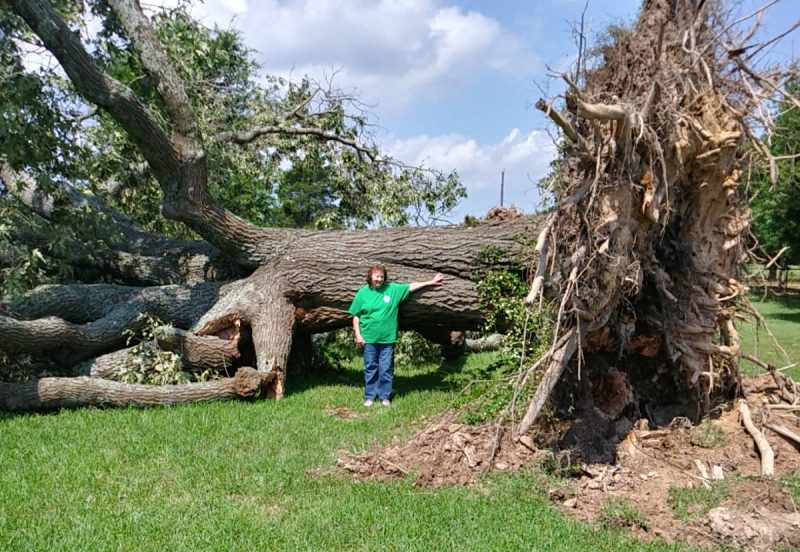 The homeowner is Helen Barker, and her late husband was Tommy Barker, a former Ag agent for Hopkins County who succeeded agent Gordon Ford in 1972. Helen stated that as the skies grew dark, she went to look out the front door at the storm. Limbs were moving in the wind, but as she watched, it seemed as if she saw the great tree begin to rock and sway. Immediately, fearing that it would fall on the house, she retreated to another part of the house. When she returned to the front door again, she saw that the tree had just gently settled down along the driveway, clear her house, with the huge root ball exposed. The root ball appeared about 20 feet tall with it's roots snapped off at the ground. Helen estimates that the tree trunk might have been 16 feet in diameter, and she does not know the tree's exact age. Although glad that no one was hurt and no property damage done, she will miss the big old oak because it was like part of the family, and the reason they built their home in that spot 18 years ago.
The same thunderstorm's passage brought reports of much-needed rain in the southeastern sections of the county, with one inch at Rocky Ridge, 1 and 3/10 inch south of Greenpond, and a half-inch of rain at Sandfield, south of Como.