A large crowd filled the cafeteria at North Hopkins School Tuesday evening as area residents formed the Highway 19N Coalition. Residents in northern Hopkins are forming the coalition to seek more immediate changes providing greater safety for those traveling the roadway that combines both State Highway 19 and State Highway 154 connecting to State Highway 24 providing a route between Sulphur Springs and Paris. Proposals by TxDOT are not happening soon enough and are not providing enough safety measures according to those forming the coalition.
Dr. Darin Jolley, Superintendent of North Hopkins Schools welcomed those present and presented his concerns for the safe travel of school buses and those transported to school. The travel of children and students were a top priority for many who expressed their concerns during an audience participation time later in the evening. Danny Evans, Commissioner Precinct 4, noted various needs along 19N and praised the efforts of coalition organizers Shirley Patchen and Jorene Orr.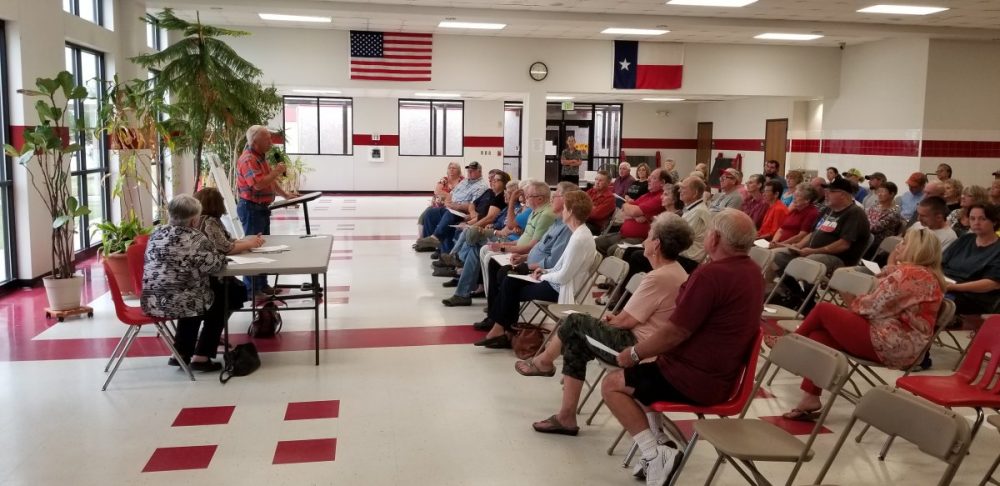 Jorene Orr presented a history of Highway 19 from its beginning through development that included early plans to make the state highway a four-lane roadway leading from Houston into Kansas. State Highway 19 currently extends from Huntsville to Paris. The north/south roadway was first planned to connect the two sides of the state. Her family has been involved in the development of the roadway over the years having served on various advisory boards that have attempted further development of the road. She also presented traffic information that reflected the growth of traffic along the road. According to her numbers, the opening of Cooper Lake, the development of businesses in northern Hopkins County, additional residents and the flow of traffic to casinos in Oklahoma have been a factor. It was noted that the development of NAFTA routes had been a factor in the abandoning of the four-lane plans for Highway 19.
Shirley Patchen a leader in the progress of safety features on State Highway 11W told those present how she had hounded state and TxDOT officials until she was heard and work became a priority on that roadway. Patchen is now taking a leadership role, along with Orr, in developing the coalition. She stated that the death of a friend of her daughter had been a driving force as she worked on the 11W project and that the number of deaths on 19N were a factor in her concerns now. Others present also noted the deaths, one individual speaking of her husband's death on the roadway, as a reason for immediate change.
In an open floor discussion, many residents named specific concerns. Among the concerns: 1) turning lanes along 19N due to the number of homes, businesses, and egress of other roadways; 2) passing lanes to provide a smoother flow of traffic; 3) slower speed limits from Loop 301 to the county line and specifically in Birthright; Semi-truck parking at the corner of FM 71 and State Highway 19N; a four-way stop at the intersection of FM71 and 19N; and the desire for a four-lane roadway.
It was noted that some speed changes and other physical changes to the roadway are planned for the future. In May, TXDOT announced they had concluded a detailed speed study on State Highway 19, from Loop 301 in Sulphur Springs to State Highway 24 in Delta County. After reviewing the results of the study, TXDOT has proposed a speed reduction pending approval from the Texas Transportation Commission. This proposal is on the agenda for the June 28th commission meeting. Following TTC approval, TXDOT will install new regulatory speed limit signs. The proposed speed limit reduction will lower the existing speed limit from 70 mph to 65 mph from Loop 301 to the Delta County line, and reduce the speed limit from 65 mph to 55 mph through Birthright. Some at the meeting thought even this speed change not enough.
TXDOT also has two upcoming Highway Safety Improvement Program (HSIP) projects for 19N. The first project is set to let for bidding in May 2020. The project limits are from the Delta County line to SH 154 and will consist of extending and installing safety end treatments for cross drainage structures, upgrading bridge rail, and upgrading metal beam guard fence. The second project is set to let for bidding in August 2020. The project limits are from Loop 301 in Sulphur Springs to FM 1537 and will consist of extending drainage structures, upgrading bridge rail and metal beam guard fence, and installing a passing lane. These changes are far less than the desired changes of those present Tuesday night. 
A number of elected county officials were present for the event. Among them were County Judge Robert Newsom, Sheriff Lewis Tatum, Precinct 3 Commissioner Wade Bartlett, incoming Precinct 4 Commissioner Joe Price, and others.