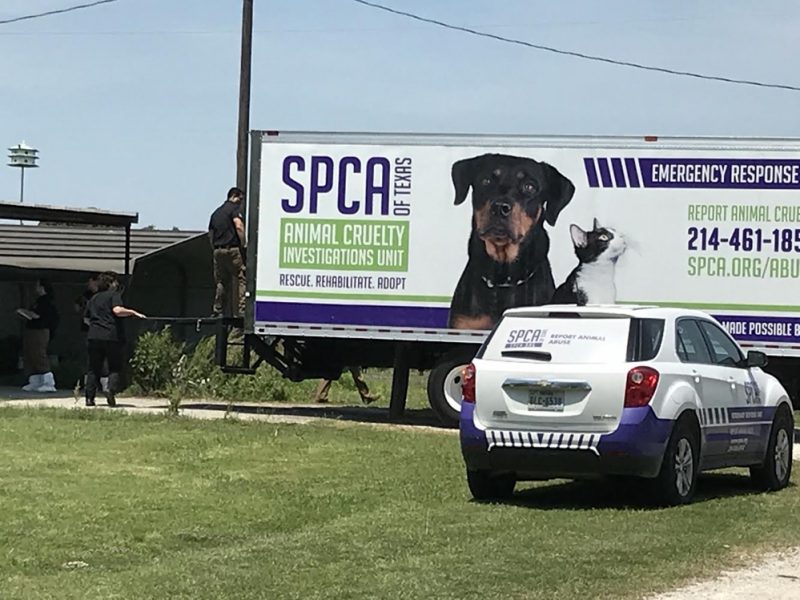 Between 48 and 50 live dogs were found in a house and outbuildings and approximately 50 dead animals including litters, puppies, grown dogs and animal tissue stored in a freezer were found at a residence located just off FM 2285 north of Sulphur Springs in Hopkins County, according to Hopkins County Chief Investigator Corley Weatherford. Animal cruelty charges are being filed Thursday against the home and animal owners. The investigation is ongoing.
Weatherford said that a recent complaint was filed with Hopkins County Animal Control Deputy Kobe Hume and the SPCA of Texas. Thursday morning, Hume and representatives of the SPCA went to the location but were not well received and not given consent to search the property by the home and animal owners. Based on what had been reported and what was seen at the location, Hume and the SPCA sought a search warrant. They returned to the location around noon Thursday, May 10, 2018 and found animals in every room of the house housed in a cruel manner. The dogs had not been allowed to leave the rooms in which they were housed based on the feces and urine on the floor in each room and outbuilding. According to neighbors, few knew any animials were housed at the location.
Law enforcement and SPCA found the animals to be in poor health and having lost hair. Some animals were paralyzed and kept in an inhumane manner in inhumane conditions. The dead dogs in the freezers were stored for what is expected to be gross reasons.
At this time the charges are a misdemeanor but the investigation continues and testing of the dead animals for cause of death is expected to return more evidence that could increase the charges to a felony level, according to law enforcement. Names of the individuals involved have not been released by law enforcement since the charges are currently a misdemeanor. They have been booked into Hopkins County Jail Thursday afternoon.
The live animals were removed from the location and are being housed, fed, and given medical treatment by the SPCA.