by Meredith Caddell, Executive Director, Hopkins County Health Care Foundation
On behalf of the Hopkins County Health Care Foundation Board of Directors, it gives me tremendous pleasure to announce that the 2018-2019 Lights of Life Campaign & Gala Chairs will be Tanner & Holly Ragan.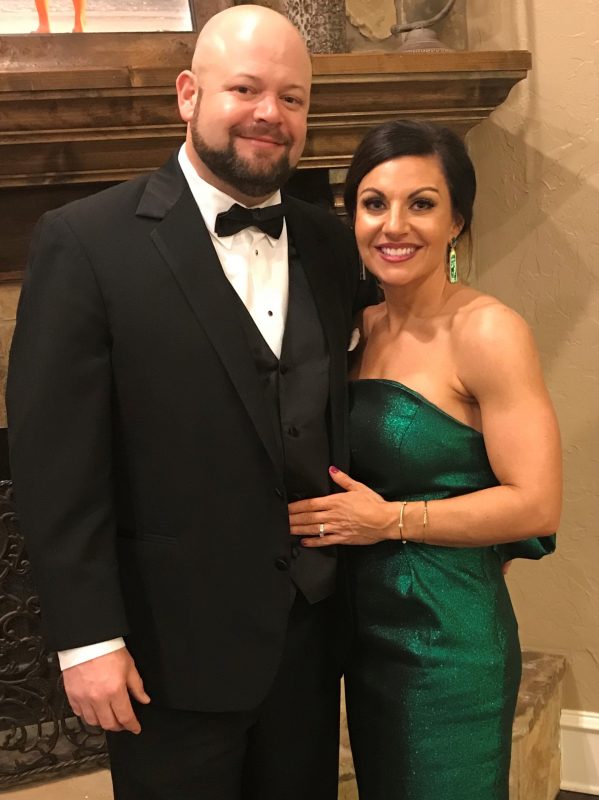 The Ragans have a longstanding commitment to this community and are truly the perfect choice to lead the efforts of the Lights of Life Campaign.  In discussion with Tanner & Holly, it was clear that they would only serve as Chairs if they could commit to it 110%.  If you know them, you know that is the ONLY way they do everything.
 Tanner and Holly were both born and raised in Sulphur Springs and are graduates from Sulphur Springs High School.  Holly graduated from Texas A&M University @ Commerce with a Bachelor's in Clinical Health Science and Business Management, and from Texas Tech University Health Science Center with a Master's in Clinical Practice Management. Holly is the Outpatient Business Development Director for Access Physicians and also a part-time personal trainer/nutrition coach at Anytime Fitness, Sulphur Springs. Tanner is a licensed auctioneer in the livestock and automobile industry.  They are Members of First Baptist Church Sulphur Springs
Currently, in the midst of work and civic commitments, they always find time to enjoy their three beautiful daughters: Reese, Ramsey & Ryan.  Tanner and Holly have been married for 13 years and attend First Baptist Church in Sulphur Springs.  In their limited spare time, Tanner likes to play golf, team rope, help Reese with her lamb projects and coach his girls in softball. Holly likes to run and workout, coach others toward better health, and serve the community through different organizations and fundraising. In fact, Holly has served on the HCHCF since 2014 starting the first half-marathon, and served as live auction chair.  She is a past mothers club president, and founder of the HC Turkey trot which has raised over $100,000 for local families and MCC.  They love to travel, spend time with friends, watch Texas Tech footfall, discover and try top-notch steak restaurants, two-step to Texas Country Music, and most of all, watch their daughters play softball, soccer, volleyball, compete in gymnastics, and show sheep in FFA and major livestock shows.
"Tanner and I have already been brainstorming on new ideas to make the campaign and gala another fun and memorable campaign.  We are currently booking the band and catering company, while deciding on an amazing theme for the gala. We will share what's been confirmed with the committee at the first campaign committee meeting, planned for June," said Holly Ragan.
"I could not be more excited to be working with Tanner & Holly.    I have had the pleasure of working with Holly over the past couple of years on the Gala Committee as the Live Auction Chair and I love her energy and determination.  Tanner was our auctioneer last year and did an incredible job.  What more could we ask for in Campaign Chairs…Hard working, dedicated, passionate and caring.  They embody each of these qualities and we are blessed to have them as the 2018-2019 Lights of Life Campaign Chairs" stated Meredith Caddell.
The Foundation Board of Directors increased the goal for this year's campaign from $300,000 to $500,000.  This will be the 1st year for this aggressive goal but the Foundation Board believes in the continued generosity and support of this community.  The impact the Foundation has had for our hospital has been tremendous with over 2.4 million dollars in contributions.  The projects and equipment that have been purchased in the past have allowed our hospital to offer many additional services in order to provide better patient care.
The Foundation Board will be selecting the project(s) to fund in the upcoming weeks and that will also be announced at the first campaign meeting.  "It's always exciting to see what will be added to our hospital through the funds raised each year.  All funds raised through our Foundation STAY in Hopkins County. We will need everyone's support to reach this lofty goal, but we know that the residents of Hopkins County will not let us down," commented Caddell.
The sponsorship letters will go out mid-June to repeat sponsors because they receive the first right of refusal.  As in previous years, we expect a quick response and commitment from the community.
The Lights of Life gala is scheduled for Saturday, January 26, 2019 6:00p.m. – 12 midnight, at the Civic Center and it promises to be another fun filled evening of fine dining, dancing to a great band and bidding on amazing live and silent auction items.  For more information and sponsorship opportunities, please call the Foundation office at 903-438-4799.