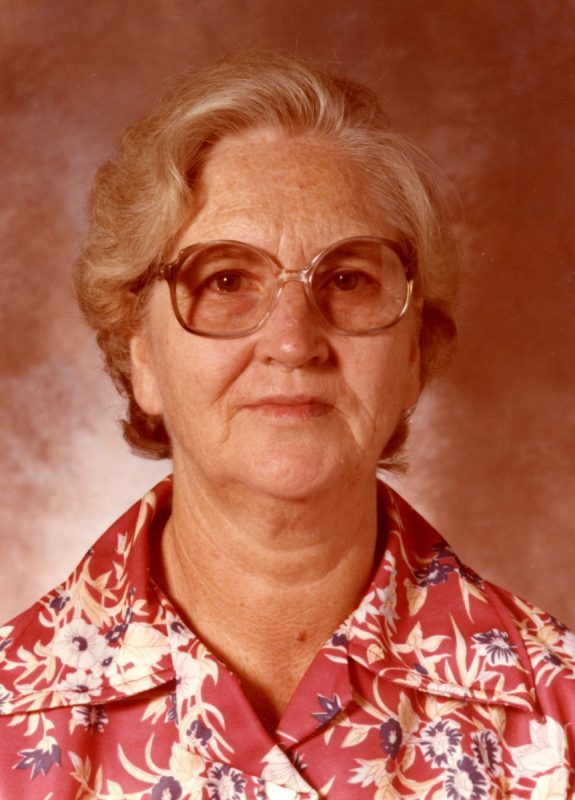 Golden Hoffman, age 98, passed away on Tuesday, May 29th, 2018 in Winnsboro, Texas. She was born July 6th, 1919 in Newsome, Texas to the late B.F. Attaway and Osia Attaway (Fuller). She worked as cook for Pickton ISD and was a member of Tabernacle Baptist Church.
She was preceded in death by her parents, B.F. and Osia Attaway; husband, W.E. Hoffman; daughter, Carolyn Gulledge; grandchildren, Charles Wayne Hoffman, Michael Ray Hoffman, and Patti Michelle Hoffman; and one great-grandchild, Jaylee Sue Cooey.
She is survived by, sons, Charles Wayne Hoffman of Pickton, Billy Bob Hoffman (LaVonda) of Pickton, and Eldridge Hoffman (Carla) Pickton; daughters, Joann Keener of Winnsboro, Sophia Grouger of Sulpher Springs, Kathy Tillery of Winnsboro, and Glenda Anders (Wayne) of Leesburg; brother, Bobby Lee Attaway of Lone Oak; sister, Talma Bennett of Winnsboro; sixteen grandchildren; thirty-one great-grandchildren; and nineteen great great-grandchildren.
Visitation will be held on Thursday, May 31st, 2018 from 6:00 pm to 8:00 pm at Beaty Funeral Home-Winnsboro, 816 W. Broadway Winnsboro, TX 75494. Funeral Services will be held on Friday, June 1st, 2018 at Beaty Funeral Home-Winnsboro, 816 W. Broadway Winnsboro, TX 75494 at 10:00 am, with Bro. Mike Haun conducting. Interment will follow at New Pickton Cemetery in Pickton, Texas, with Keith Hoffman, Gene Hoffman, Tommy Gore, Jesse Granger, Tommy Lynn Gulledge, and Dwayne Anders serving as pallbearers.