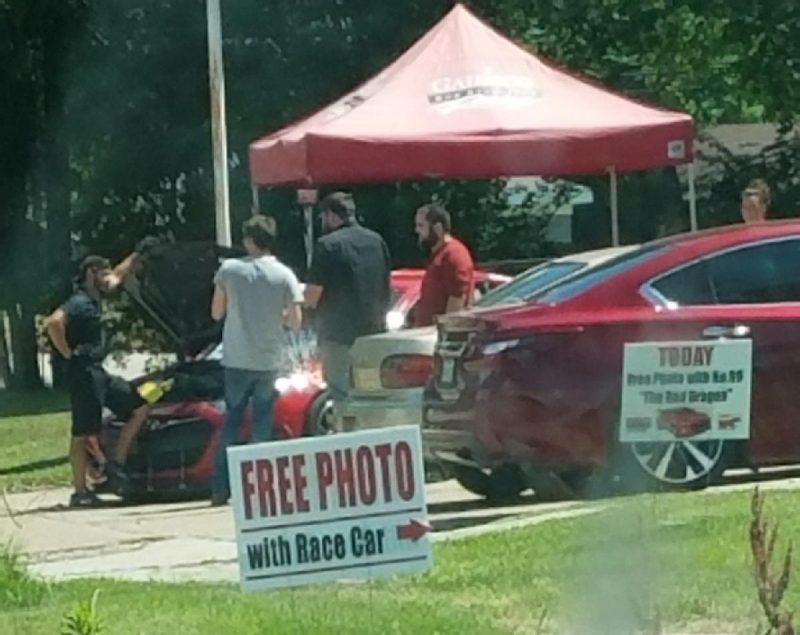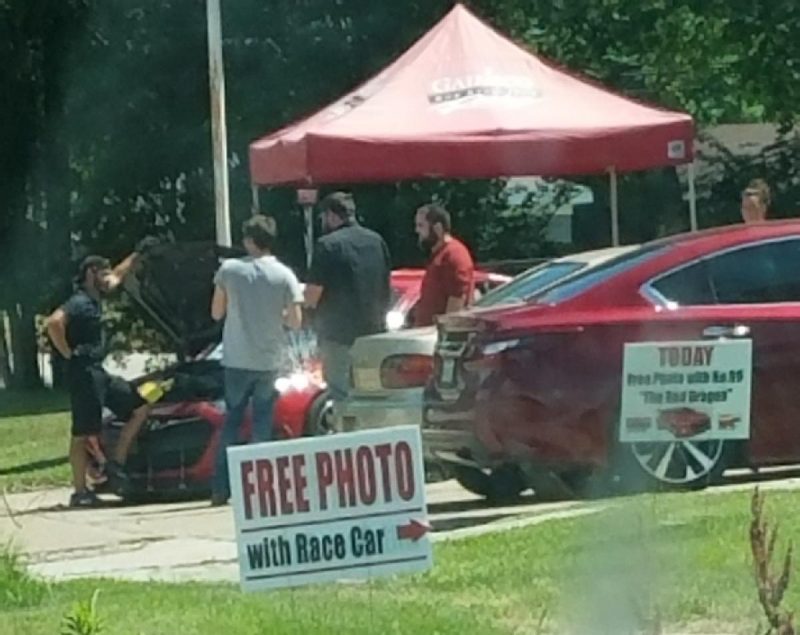 Giles Insurance celebrated their 25th Anniversary in Sulphur Springs with a Customer Appreciation Day on Wednesday, May 23rd. KSST visited Janice Giles and Lori Moreland of Giles Insurance Agency, on 233 s. Davis St. in Sulphur Springs. Moreland estimated between 50-75 customers came out to celebrate with them. Giles wanted to find a creative way to express her appreciation to her customers. Giles succeeded with a cookout, drawings, giveaways, and even displaying  Jon Fogarty's red race car! Giles chose May 23rd as the date for the celebration because it was the birth-date of her late husband, Roy.
Voices could be heard coming from the picnic area out back. Everyone was in a jovial spirit. Children were laughing and friends ate free hot dogs and reminisced about good times and the old days while Janice ran drawings for Gift baskets, tool sets, t.v.s and gift-cards. Children enjoyed frisbees, squishy stress balls, and bubbles.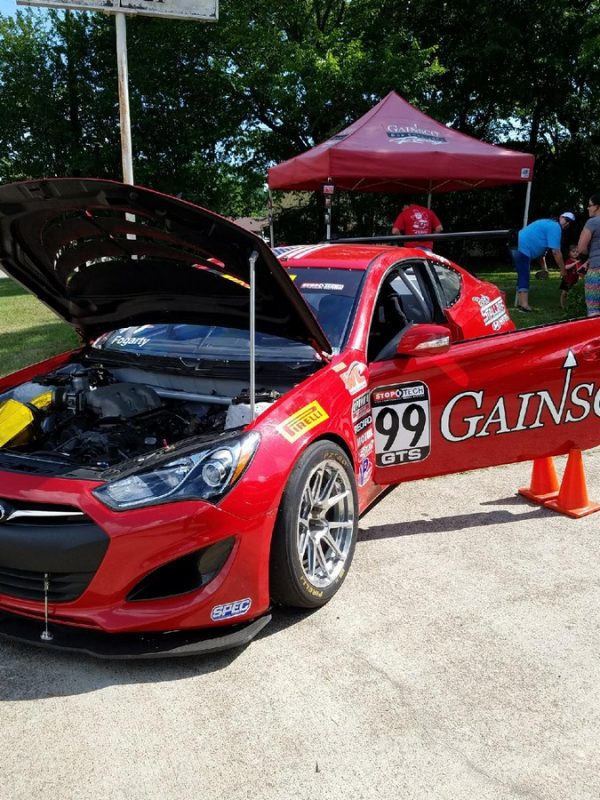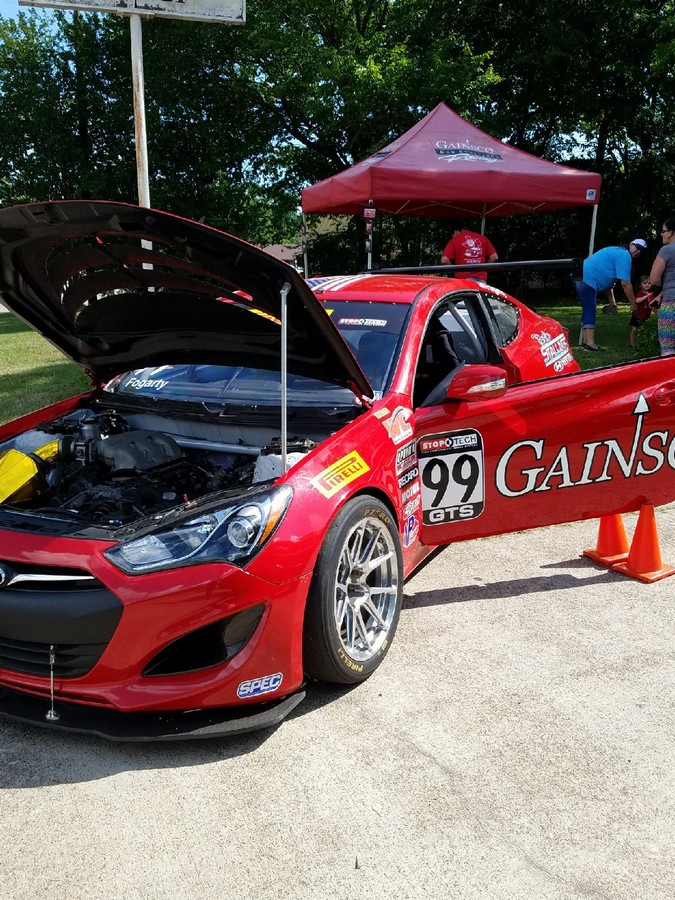 Fogarty's race car was brought out to the event by Gainsco Auto insurance, the primary sponsor of the race car. The #99 car, is a Hyundai Genesis Coupe that weighs 3,150 lbs and has been reported to reach an average speed of 165 mph. The six speed has a V-6 engine with 435 horsepower. The car has two main drivers: Jon Fogarty and Co-driver Alex Gurney. They are responsible for two Grand-am Rolex Sports Car Series Championships and sixteen career Rolex Series victories, among many other accomplishments. Customers got to take pictures and get an up-close look at the inside of a real race car. Giles and Gainsco work closely together. Giles is an independent agent and Gainsco insurance is one of the companies Giles represents.
Gainsco marketing representative, Anna McDaniels, said, "we wanted to support Giles Insurance on their 25th Anniversary. Janice is a very sweet lady and we want to do anything we can do to help her in her endeavors!"
Everyone enjoyed sitting in the shady tree-filled back lot at Giles Insurance Agency while Giles' brother, James King, and nephew, Jason King, grilled hot dogs. Giles took a moment to pose for a picture with some of the kids and commented that Jason was a purple heart recipient; "I'm so proud of him and his military service! He and my brother are my partners in crime! I just want to give a special thanks to them for cooking and serving hot dogs. They traveled all the way from Mesquite just to do all my cooking for me today!"
In 1972, Janice  was 19 years old when she took her first "office job"  working for Roy Giles Insurance in Mesquite. The two got along well and soon they fell in love and got married. Twenty-one years later, in 1993, they moved to the Miller Grove/Cumby area and purchased the building on South Davis to introduce Sulphur Springs to what is now the Giles Insurance Agency.
Their son, Billy, grew up in the business and now is an integral part of the group. Lori Moreland joined Giles' family-operated business in 1994. After graduating college, she moved away for a few years but started back with Giles in 2004. Moreland couldn't think of a happier place to work. "We always try to get the best rate and the best fit [for the customer]"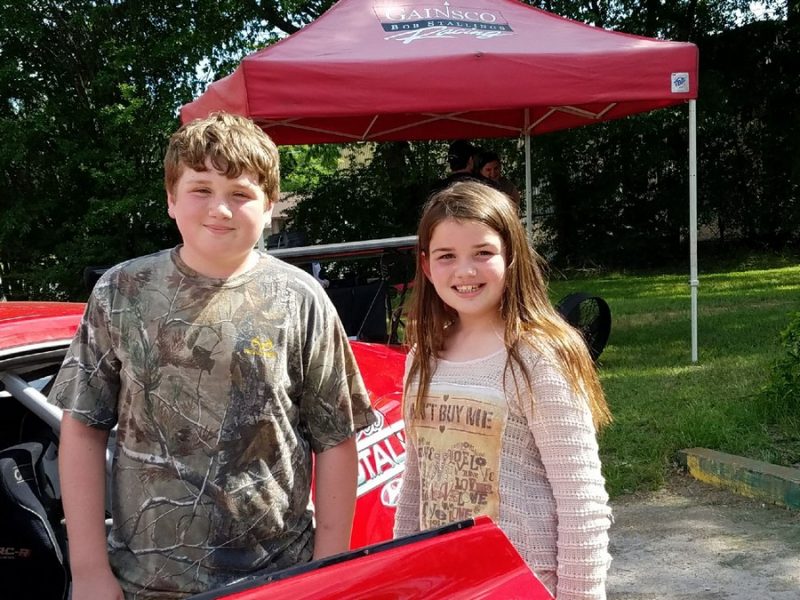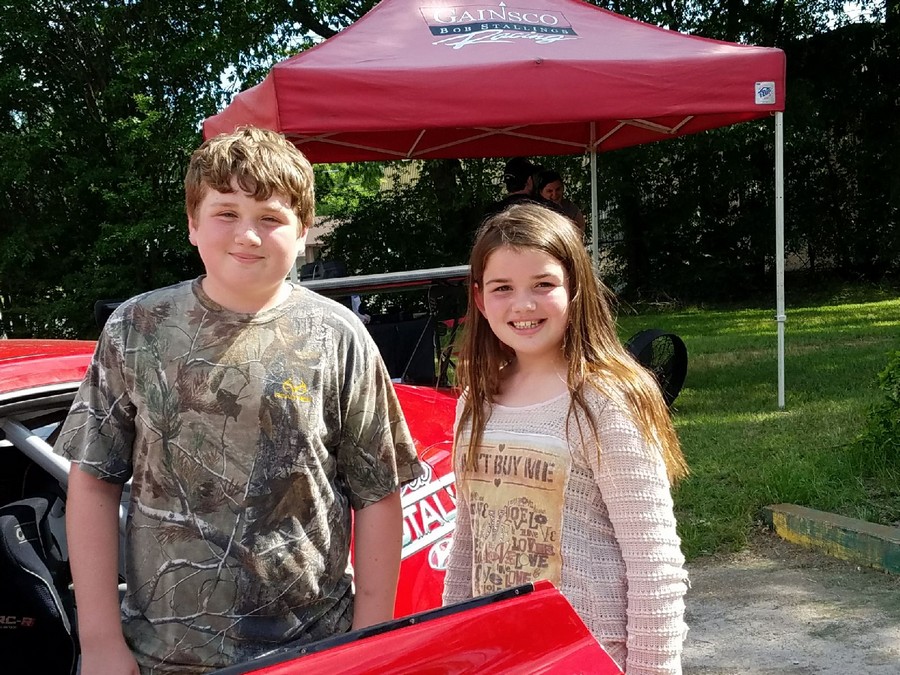 Giles and Moreland both emphasized how much they really appreciate their customers. "We've watched them grow up through the years and feel privileged to know their families and watch their kids grow up too. It's been very rewarding!" When asked if they will celebrate any more milestones in this way, Giles smiled and said "absolutely, it's been awesome!"
Giles provided all the food and most of the items for the drawings. In addition to her customers, Giles would like to thank the local community for showing support through "word of mouth" throughout the years.
She would like to acknowledge and thank the following companies for their generous donations:  O'Rielly's Auto Parts, Progressive Insurance, Mendota,  and Kemper.
Winners of the drawings:
Rhonda Hightower -40 inch Smart T.v.
Wanda Spraglin – 32 inch Smart T.V.
Jose Hernandez-Skil Drill tool set.
Mike Brancel- Cobalt bag and tool set.
Katherine Smith – Gift Basket.
Martha Blanks -Gift basket.
ChaCha Henley-Amazon Echo.
Customers also won many different types of gift cards from local restaurants.