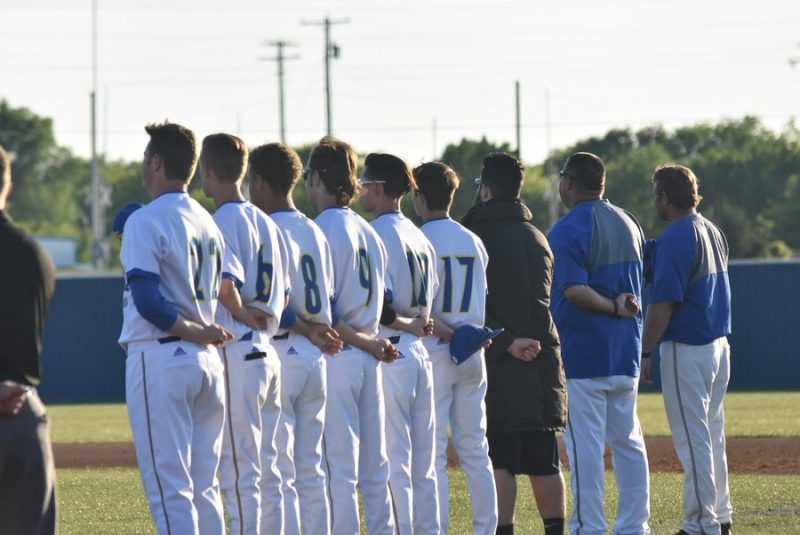 Wildcats Baseball Coach Jerrod Hammack has a lot of respect for Wylie East, the Wildcats' bi-district opponent. Game one in the series is at Wylie East Wednesday night (May 2) at 7:30 p.m. The Raiders are coached by Heath Andrews, who is the only baseball coach Wylie East has ever had and is in his tenth year there. The Game will be heard on KSST.
Coach Hammack, in his thirteenth year at Sulphur Springs, says this year's Raiders team is just like others he has played against and scrimmaged in the past. He says they are a solid team, fundamentally sound and one that won't beat themselves. Coach Hammack says they aren't overpowering on the mound but he adds they do have quality pitchers. He says they have a lefty that throws about 80 miles an hour and mixes in a mid-60 mile per hour breaking ball. Coach Hammack says he is very effective and adds no one seems to score a lot of runs off him. The Wildcats expect to see the left hander Wednesday night. Coach Hammack says he expects the Raiders Friday night pitcher to be a taller right hander who throws in the mid-80's and has a breaking ball. He expects the series to be a good matchup.
Coach Hammack says the Wildcats will have to play their best to win. He says Wylie East will make the Wildcats earn wins. Coach Hammack says the Raiders will bunt and do other things to get on base and move runners. He says they are not a great hitting team but he says they can get runners on, move them around and score runs. Normally Coach Hammack throws his ace to start a series. He plans to deviate from that this year. Wildcat ace Ryan Humphries is said to still be a little sore from throwing over 100 pitches last Friday night. Coach Hammack wants to give him a couple more days off and pitch him Friday at home. He says he will go with Jaxon Chaney Wednesday night with Pacen Edwards in reserve if needed. Chaney pitched well in a seeding game Saturday allowing only one run in five innings against red hot Texas High in a 5-0 loss. Coach Hammack says the Wildcats need to start swinging at good pitches and to figure out how to score some runs. Batters struggled in the second half of district play and a strong first half.