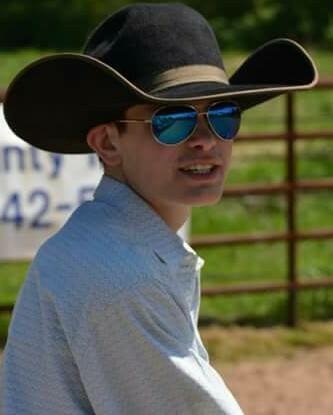 Ethan Lane Busby, a true Cowboy, age 23 of Cookville, Texas passed away on Wednesday, May 23rd, 2018 in Huntsville. He was born on April 15th, 1995 in Tyler to Jimmy Busby and Laura Smith Busby.
He was a real Cowboy making a living as a ranch hand, rodeoing and studying at Sam Houston State. Ethan was a member of Lonestar Cowboy Church in Montgomery, TX and Wood County Cowboy Church in Quitman, TX.
He is survived by his father, Jimmy and his wife Stephanie Busby; mother Laura and her husband Arlan Williams; sister, Kaitie and her husband Landon Bass, Rachelle and her husband Joe Torres, Cara and her husband Michael Farrell, Tiffany Williams; brothers, Jacob and his wife Rebecca Smith, Cole Smith, Aaron and his wife Shelly Williams, Amon and his wife Heather Williams. Grandparents Jerry and Debbie Busby of Pickton, Jack and Dorothy Newsom of Sulphur Springs, L.D. and Jane Smith of Greenville, as well as so many nieces, nephews and those that he considered family.
Visitation will be held on Saturday, May 26th, 2018 from 6:00 pm to 8:00 pm at Beaty Funeral Home-Winnsboro 816 W. Broadway Winnsboro, TX 75494. Funeral Services will be held on Sunday, May 27th, 2018 at Wood County Cowboy Church 3435 FM 2088 Quitman, Texas 75783 at 4:00 pm, Bro. Chase Pope and Bro. Terry Johnson conducting, interment will follow at Hopewell Cemetery in Winnsboro, with Alex Seeton, Adan Flores, Justin Ford, Seth Savage, Colby Hanner, Logan Hirsch, Payton Snokhous, Kyle Allen serving as pallbearers, and his brothers will serve as honorary pallbearers.