We all scream for ICE CREAM!!!!The 2018 Ice Cream Freeze-off is getting really close!  We are currently in need of sponsors of the Ice Cream Freeze-off, and people to make homemade ice cream in the contest.  There is no charge to enter the ice cream contest, so please consider being a part this year! The Ice Cream Freeze-off will be held on Saturday, June 9th, at 5:30 p.m. on the REAR lawn of Shannon Oaks Church.  We are moving the Ice Cream to the back of Shannon Oaks so that once the Ice Cream is over, the hot air balloons will get fired up all in the exact same place.  Make plans to be a part of the Ice Cream Freeze-off then watch 30 hot air balloons glow and take flight.  It's going to be a great day!!!  We'd love to have you join us!!! To sign up to sponsor or to make ice cream, call the Chamber at (903) 885-6515.  We'll get you all set up for the big event!
Hunt Regional is offering Mobile Mammography Coach in Sulphur Springs
Hunt Regional Hospital is offering the Tubby Adkisson Memorial Mobile Mammography Coach on May 24th in the Spring Village Shopping Center in Sulphur Springs.  All insurances accepted at Hunt Regional are also accepted for the Mobile Mammography Coach, including Medicare and Medicaid. They can also help with payment resources for uninsured/income-eligible women or those who choose to pay cash. For help with payment resources please call The Bridge Breast Network at (214) 821-3820 x 21. To schedule individual screening mammograms, please call (903) 408-5010. Appointments and pre-registration are requested.
Sulphur Springs Public Library presents their Summer Reading Program for June and July
The Sulphur Springs Library is hosting a summer reading program called Fun with Mary Poppins Reading Program 2018.  The Summer Reading Program Kickoff will be held on Thursday, May 31st from 5 p.m. to 7 p.m. with Ewe Pet Petting Zoo, Dairy Queen face painting, summer reading challenge sign ups, food and music!  Story time will be each Tuesday at 10 a.m. in June and July (except for July 10 and 17). Watch for special guest appearances along with fun, stories and great prizes.  Minecraft is back every Friday afternoon at 3p.m. beginning June 1 and ending July 27.  Thursday, June 21st at 6 p.m. is a special Mary Poppins Story time event, and Friday, June 22nd at 3 p.m., don't miss the Bubble Show with Brett Roberts.  Then, Thursday, June 28th, at 11a.m. the library will welcome Will Parker with a very musical story time.  The library is happy to answer any questions, please call (903) 885-4926, or you can visit www.sslibrary.org.
Jesus is my SuperHero 5K Run
Our Savior Lutheran Church is hosting the Jesus is my SuperHero 5K Run on Saturday, June 2nd on Celebration Plaza in Sulphur Springs.  Register at www.oursaviorsstx.org or at Fieldhouse Sports located 101 Bill Bradford Road in Sulphur Springs.  This event is a fundraiser for the OSLC Youth Group.  Entry fee is $30.  For more information, contact (903) 885-5787 or (903) 243-4716.
The Northeast Texas Alliance will host workforce seminar
On June 6th the Northeast Texas Alliance is holding a regional government seminar to discuss workforce issues.  Workforce readiness and preparation are the current buzz words and major points of discussion not only for new business recruitment but also business retention and expansion.  The luncheon speaker will be TWC Commissioner Julian Alvarez, with additional speakers including Texas State Senator Brian Hughes.  The seminar is scheduled from 8:00 a.m. – 1:30 p.m. and will include lunch.  It will be located at the Mt Pleasant Civic Center in Mt Pleasant, Texas.  Cost for the program is $23.00 each.  The Hopkins County Chamber of Commerce is encouraging participation in this program by encouraging attendance of our businesses, community leaders, and citizens.  Call the Chamber at (903) 885-6515 to order your tickets.
AgriLife Extension offers Rebalancing Work & Life Webinar
The Military Families Learning Network (MFLN) is providing a free monthly webinar in partnership with USDA, U.S. Department of Defense, and Extension.  The June 13th webinar will take place at 10:00 a.m.  To sign up, go to: https://learn.extension.org/events/3261.  To join the webinar, use the 'event location' link designated for each webinar and follow directions within the site.  The MFLN offers both continuing education credit (CE) and certificates of completion for webinars.  For more information, call the Texas A&M AgriLife Extension Office – Hopkins County – at 903-885-3443.
Ribbon cuttings: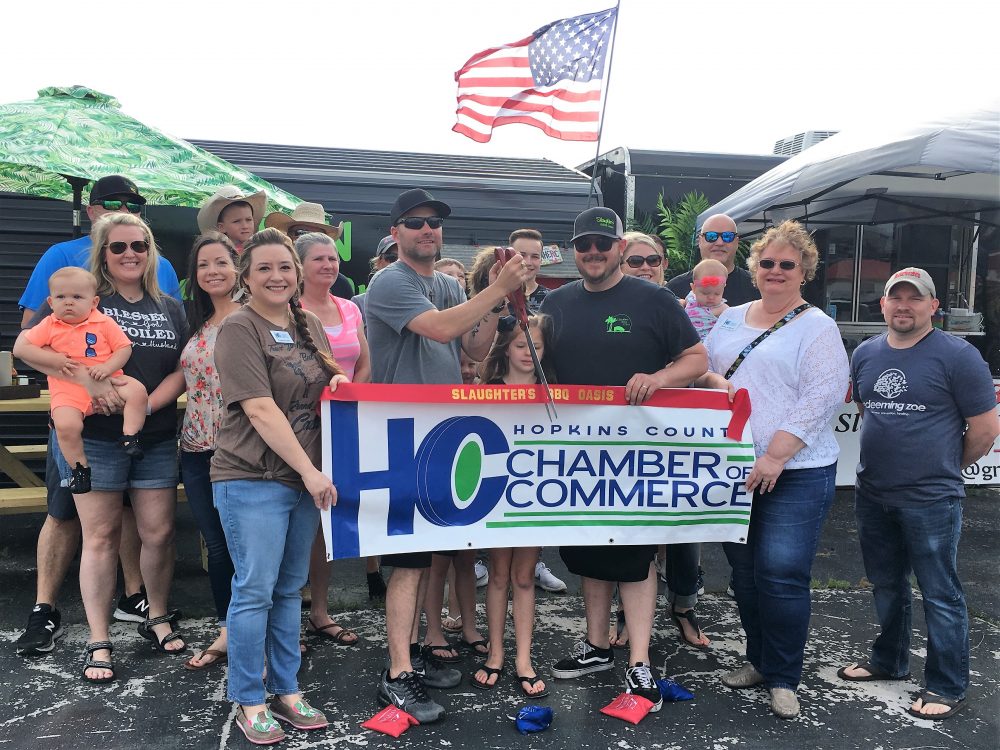 Slaughter's BBQ Oasis hosted ribbon cutting celebration
Slaughter's BBQ Oasis hosted their ribbon cutting celebration on Saturday, May 19th, at 9:00 a.m.  They are located in the Fix & Feed parking lot, 1000 Gilmer Street in Sulphur Springs.  Make sure to stop by on Saturdays from 8 a.m. until they sell out to welcome this new business to Hopkins County (and eat some delicious, award-winning BBQ)!
Have a wonderful weekend!
–Lezley