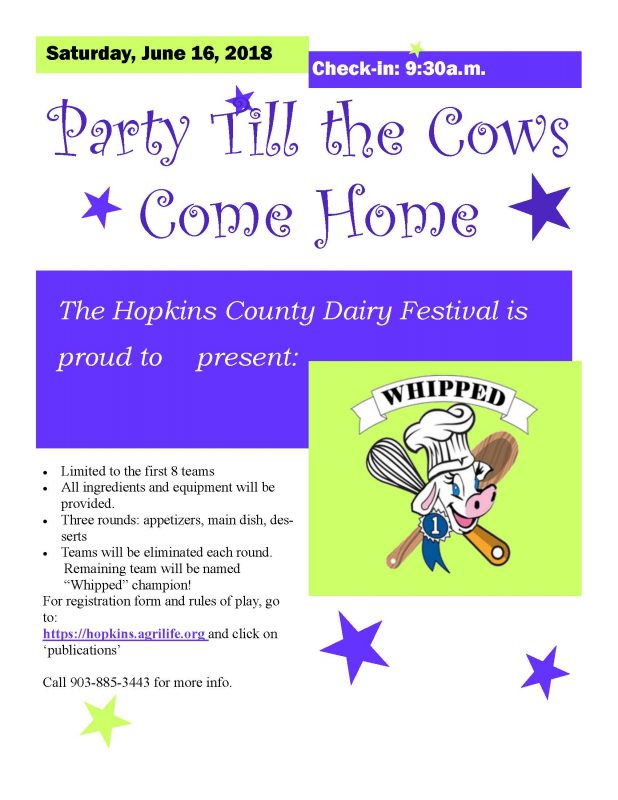 Are You Ready for the Whipped Challenge?
               The buzz is building and plans are in full swing as we prepare for the 2018 Hopkins County Dairy Festival "Whipped" Challenge.  Businesses, civic clubs, churches, schools, and organizations are encouraged to enter a team.  So, what is the "Whipped Challenge?"  If you have ever watched the popular show called "Chopped" on the Food Network, we are patterning our event after that program – with a dairy twist, of course!  Here's how it works:
1)      The contest will take place on the front grounds of the Hopkins County Civic Center, 1200 W. Houston, Sulphur Springs, TX on Saturday, June 16, 2018.  Check-in begins at the gazebo at 9:30 a.m.  Orientation begins at 10:00 a.m., and the contest starts at 10:15 a.m.
2)      Participation will be limited to the first eight teams (4 members per team).  Teams are requested to bring their own knives for chopping and slicing ingredients.  After registering, teams will be directed to a food preparation station.  There will be a set of ingredients at each station, but no recipe. The ingredients will represent a dish from one of the following: appetizer, main dish, dessert.
3)      Preparation: each team will be provided with a set of ingredients reflective of the assigned category, and will create a single dish (not a full meal) using the ingredients.
Teams are challenged to be creative by developing their own recipe with provided ingredients.
Team must incorporate each ingredient into the dish. However, teams may determine the exact amount of each ingredient to use.
Teams will have access to an equipment table and "pantry" of additional ingredients that may be used to compliment or garnish the dish.
Each dish must contain at least 2 dairy products, provided in the pantry.
Round 1: Eight teams will prepare a snack/appetizer (20 minutes), after which two teams will be "whipped."  Round 2: Six teams will prepare a main dish (40 minutes).  Three teams will be eliminated.  Round 3: The three remaining teams will prepare a dessert (20 minutes).  One team will be named "Whipped" champion.  Prizes will be awarded.Note: times include planning, preparation, and plating.
4)      Presentation: When time is called, each team will step away from their preparation station and take the completed dish to the judges' area. The following pertains to team presentations:
All team members will participate in the presentation.
A maximum of 3 minutes will be allowed for each team's presentation, which may include questions from judges. Note:teams should follow food safety practices since judges will taste dishes.  All participants will receive a gift bag, and prizes will be awarded in increasing amounts with each round.
5)   Cost to enter is $40 per team.  Team applications are due by May 31 and may be returned to the Texas A&M AgriLife Extension Office, 1200 W. Houston, Sulphur Springs.  Checks should be made out to Hopkins County Dairy Festival.  Applications are available at the Extension Office – 1200 W. Houston, and on the Extension website at http://hopkins.agrilife.org, (click on publications).  Copies are also available at the Southwest Dairy Museum and will soon be posted on the Dairy Festival website.
               So, gather your co-workers, fellow civic club members, and friends, and join the fun!  Remember, the deadline to enter is May 31 (or until the first 8 teams have entered), so don't be a procrastinator!  If you have questions, please call my office at 903-885-3443, and I'll be glad to help you.
Other Upcoming Events
Kids' Camp:  By now, Sulphur Springs Schools which house grades 1 thru 4 have received registration information for "Kids' Camp: Fun, Food, Fitness."  If you child is interested in attending, tell them to ask their school teacher or principal.  This will be the 8th annual Kids' Camp, and we are so excited to bring fun activities to keep your child's mind active!  Dates of the camp are 

June 11 thru 29

, Mondays, Wednesdays, and Fridays, from 

9:00 a.m. to noon

.  The location will be the auxiliary gym at Sulphur Springs Middle School.  On Mondays and Wednesdays, we'll focus on nutrition, hands-on cooking, physical activity including Walk Across Texas and team games, water and sun safety, fire safety (our local fire safety clowns will be visiting!), weather safety/first aid, simple money management, and more.  

Friday

 sessions will be led by the Master Gardeners.  The final 

Friday

 of camp will be our celebration – prizes for the kids who log the most miles, t-shirt distribution, water slides, bounce houses, and of course, delicious snacks.
     The cost of the camp is only $10 per child, because we don't want the cost to be a hindrance from this excellence camp experience.  The deadline to register is May 31, and participation is limited to the first 40 youth.  Registration must be brought to the Extension Office – not the classroom teacher.  Forms are available at the 1st thru 4th grade campuses, or may be picked up at the Extension Office – 1200 W. Houston.
One Health Round Table:  Each spring, our Extension Leadership team (Extension Leadership Advisory Board, Program Area Committees, Master Volunteers, and Community Volunteers) provides feedback on programming ideas for the community.  The topic which received the most response was the area of health as well as its correlation between animals and humans.  Two dates have been set for a round table series of discussions, so put these on your calendar!
     Friday, July 6, will feature immunizations – flu, pneumonia, shingles, etc. and the appropriate ages and times to receive these immunizations.  Also on board is a speaker who will discuss rabies, Zika, and other vector-borne diseases that can be spread to humans, and their treatment procedures.  Friday, July 13, will feature the topic of animal health.  Both sessions will take place at the Texas A&M AgriLife Extension Office.  Watch for more information to come, but please save the dates!
Multi-county 4-H Camp:  The registration deadline is 

May 31

 for students in grades 3 thru 12.  Hopkins County typically takes the largest group to this camp and they all return home with great experiences to share!  Even though it is targeted toward 4-H members, you do not have to be a 4-H member to attend.  The camp will take place 

July 9-11

 at Lakeview Baptist Conference Center in Lone Star.  I will be chaperoning, along with at least two other leaders from Hopkins County.  We will meet at the Extension Office to carpool.  Students may be picked up at 

10:00 a.m.

 on 

July 11

 at the camp facility.  Registration forms are available at the Extension Office, which includes a list of things to bring, schedule, workshops, and more.
Skills Camp:  By now, the Sulphur Springs 5th and 6th grade campuses have received the registration brochures for Skills Camp.  This camp will take place 

Monday

 thru Thursday, July 16-19, 9:00 a.m. to 12:00 noon, at our Extension Office, with the exception of 

Wednesday

, which will be held at the ROC.   Workshops are woodworking, upcycling, photography, ceramics, and outdoor cooking.  The cost is $15 and registration is limited to the first 14 youth.  Ask your school teacher or principal for registration information, or come by the Extension Office.
Closing Thought
Everyone is a genius at least once a year.  The real geniuses simply have their bright ideas closer together – Georg Christoph Lichtenberg