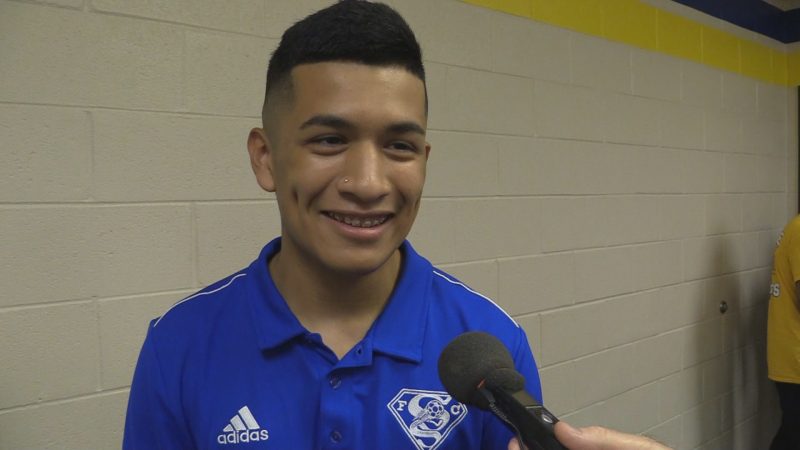 Wildcats senior center back defender Brandon Diosdado announced Wednesday (April 18) that he will play college soccer at Paris Junior College next season. Diosdado made the announcement in front of his family and lots of Wildcats and Lady Cats' soccer players at the Multipurpose Buiding on the high school campus.
Diosdado said when he returned from a visit to the University of Mary Hardin-Baylor recently, the PJC head coach sent him a text expressing interest. The coach indicated he had seen one of Diosdado's games and said he hoped Diosdado would visit the Paris campus. Diosdado said when he visited, he saw some friends he had competed against in district soccer games. Diosdado said Paris has a lot to offer as a town. He said he was especially pleased to find out they had a Burgerland.
Diosdado said the PJC coach is looking for him to play the familiar center back defense position that he has played for the Wildcats. He said he is not sure if he will be able to start right away. Diosdado said PJC is rebuilding with a head coach who came from Dallas Baptist.
Diosdado said he wants to get into nursing. He said he's pleased that Paris is close to his home. Wildcats Coach Nicky Wiggins said Diosdado makes good grades. He said he is pleased Diosdado will be able to continue his education and his soccer playing. Coach Wiggins said Diosdado is fast and big adding he has power in the kicks and can win balls in the air. Coach Wiggins said all of these things are of great value to college coaches. He said Diosdado is a good fit as a center back defender.