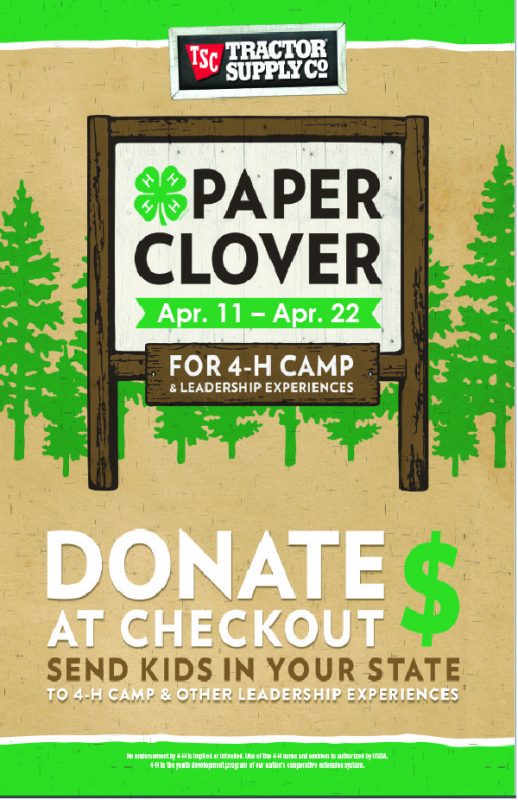 Paper Clover Campaign
Hopkins County 4-H members invite you to visit the 4-H exhibit at the Sulphur Springs Tractor Supply.  From April 11 thru April 22, the annual spring Paper Clover Campaign will be held.  When checking out, donate $1, with a portion of the proceeds going to the Hopkins County 4-H program.  Funds will be used to help send 4-H members to camps and leadership conferences.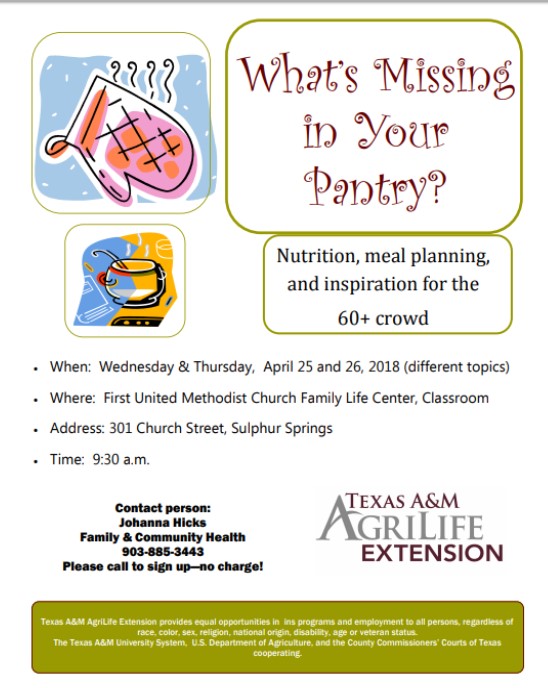 What's Missing in Your Pantry?
A fun, informational program is planned for the 60+ crowd on Wednesday, April 25, and Thursday, April 26, starting at 9:30 a.m., at First United Methodist Church, 301 Church Street (enter through the Family Life Center).  The two topics are "What's Missing in Your Pantry?", which covers nutrients that are often missing in the 60+ crowd.  On Thursday, the topic will be "Eat Smart, Live Strong" focusing on colorful and classic flavors, plus simple exercises that can benefit overall health.  Contact Johanna Hicks, at the Texas A&M AgriLife Extension Office, 903-885-3443, so adequate preparations can be made.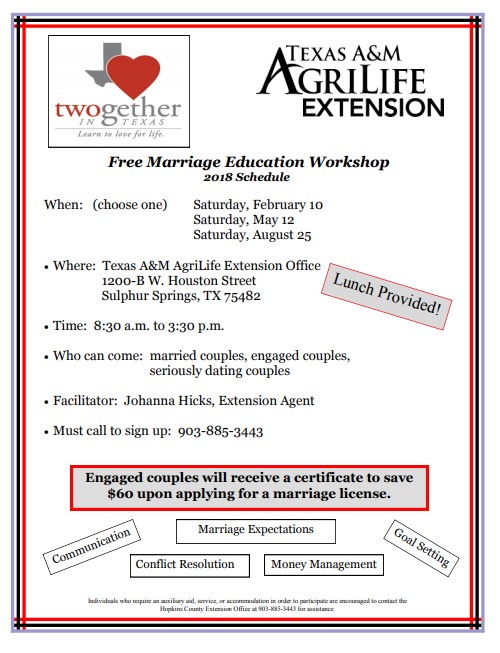 Twogether in Texas Marriage Education Workshop
Are you or someone you know getting married? The spring "Twogether in Texas" marriage education workshop is scheduled for Saturday, May 12, 8:30 a.m. to 3:30 p.m., at the Texas A&M AgriLife Extension Office, 1200 W. Houston, Sulphur Springs. (Another workshop is planned for August 25, so pick the date that works best for you!)  This workshop is the perfect solution to inform engaged couples and save money!  Topics include: Marriage Expectations; Communication; Conflict Resolution; Money Management; and Goals & Dreams.  There is no charge for the workshop, and engaged couples will receive a certificate to save $60 upon applying for a marriage license. The certificate is good for one year from the date it is issued.  Lunch and refreshments will be provided.  Please call Johanna Hicks at 903-885-3443 for more information and to sign up.