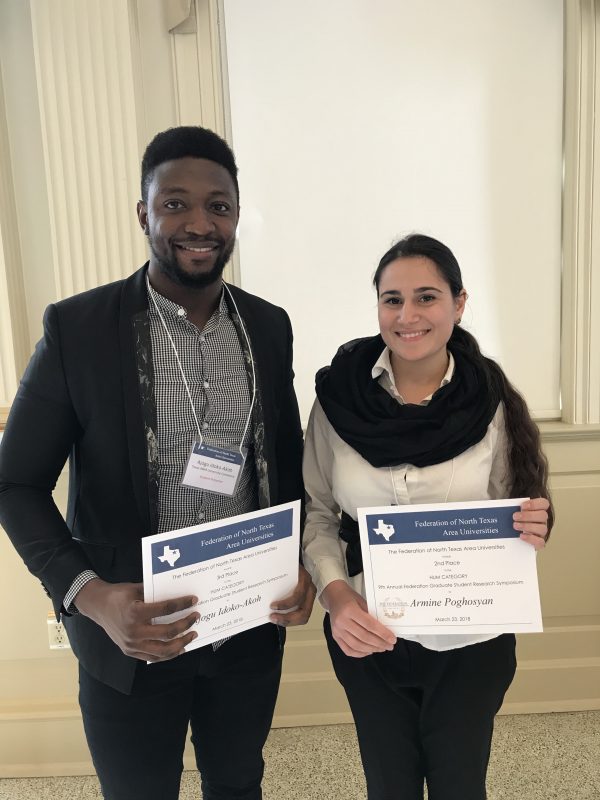 COMMERCE, TX—Two A&M-Commerce students were recognized for their research presentations at the 2018 Federation of North Texas Area Universities Graduate Student Research Symposium held at Texas Women's University on Friday, March 23, 2018.
Agribusiness student Armine Poghosayan was awarded the second place prize of $250 for her presentation, "Identifying Factors Impacting Households' Demand for Organic and Conventional Flour in the United States." Business Analytics student Ajogu Adoko-Akoh was awarded the third place prize of $100 for his presentation, "Competency-Based Education: Saving Students Time and Money."
"The Federation Symposium provides an excellent opportunity for our top graduate students to present their research results in a friendly regional meeting, and to meet and interact with the faculty and graduate students of UNT and TWU," said Dr. Matt A. Wood, Vice Provost for Research and Dean of the Graduate School.
The Federation of North Texas Area Universities celebrates its 50th Anniversary this year, and consists of member universities A&M-Commerce, University of North Texas, and Texas Woman's University.
"Participation in the Federation Symposium provides our students with an opportunity to present their research to peers in a scholarly environment without having to incur travel expenses associated with national or regional conferences, while still having a top-notch presentation experience," said Dr. Jennifer Schroeder, Associate Dean of the Graduate School. "The fact that our students won awards at this year's symposium is a testament to the outstanding work that is being done at A&M-Commerce."
Since 2010, the Federation has hosted the annual symposium, where students participate in poster presentation competitions on education, humanities, social sciences, business, science, technology, engineering, and math research.