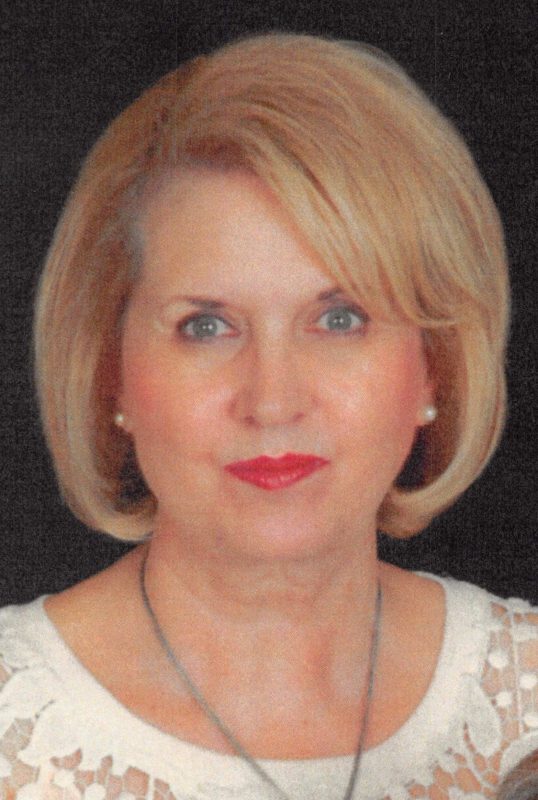 Funeral services for Sharon Kay Hughes, age 67, of Sulphur Springs will be held at 2:00 p.m., Monday, April 23, 2018 at First United Methodist Church with Bro. Pete Adrian officiating. Interment will follow at Sulphur Springs City Cemetery with Greg Hughes, Hunter Hughes, Adam Hughes, Joshua Snyder, Karl Hahnfeld, and Doug Snyder serving as pallbearers. Honorary pallbearers will be Dylan Bullard, and special caregivers, Tasha Webb, Dr. Darren Arnecke, and Legacy Hospice. Visitation will be held from 6:00 to 8:00 p.m., Sunday, April 22, 2018 at West Oaks Funeral Home. Sharon passed away on Thursday, April 19, 2018 at her home.
She was born on October 9, 1950 in Devils Lake, ND, the daughter of Maxwell L. and Lossie Poole. She received her Bachelors' Degree in Business Administration from Texas A&M University Commerce, her Masters' Degree in Counseling Education from UNT, and she was also a Certified Mediator. She lived in the Sulphur Springs community since 2003. She married Gordon V. Hughes, Jr. on April 19, 2003 at First United Methodist Church in Sulphur Springs. In her early career, Sharon worked as a Corporate Planning Manager, Tax Planner, Partner in an Oil and Gas Supply Company, and managed medical offices for physicians. Later, she worked as a Career Coach for Career Management Resources of Irving, TX, became the V.P. of Marketing for Ricker Retirement Specialists of Dallas, TX, and worked as V.P. of Go Home for Go Go Me. Sharon was involved in many organizational and volunteer commitments such as, The Dinner Bell where she was a board member at First Methodist Church, a non-profit that feeds those in need a hot meal in Hopkins County, board member of Attitudes & Attire, a non-profit agency that helped disadvantaged women successfully transition back to the workplace in Dallas, TX, National Career Development Association, Society of Human Resource Managers, American Association of Marketing, and various chamber memberships. She also served as Community Partner Coordinator and project manager for The Dinner Bell cookbook, Feed My Sheep, a fund raiser for the organization.
Sharon is survived by her husband G.V. Hughes of Sulphur Springs, daughters, Rendee Bullard and Christinna Oldham both of Fort Worth, TX, life long friend and mother in love, Margaret Ray of Garland, TX, Son Greg Hughes and wife Kelly of Flower Mound, TX, daughter, Gina Hughes Snyder and husband Doug of Sulphur Springs, TX, and grandchildren, Dylan Bullard, Hunter Hughes, Adam Hughes, Joshua Snyder, Victoria Oldham, Gates Oldham, and Alex Snyder.
She was preceded in death by her parents.
Memorials may be made to The Dinner Bell Ministry in c/o First United Methodist Church, 141 Atkins St, Sulphur Springs, TX 75482.
Arrangements are under the direction of West Oaks Funeral Home.