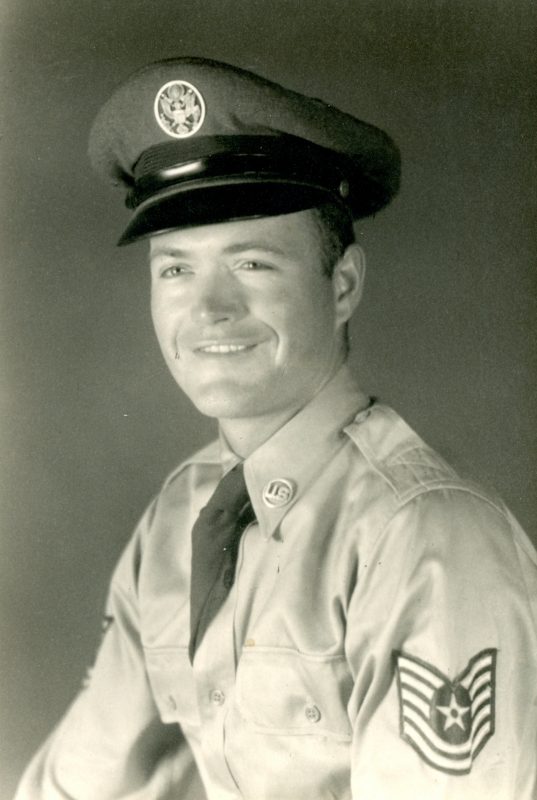 Lewis Vail, age 89 of Pickton, Texas, passed away on Monday, April 16th, 2018 in Pickton. He was born on November 29th, 1928 in Decatur, Michigan to the late George Vail and Beth (Root) Vail.
He served as Non-Commissioned Officer in the United States Air Force, obtaining the rank of SMSGT before his retirement after 21 years of service, including WW II, Korea, and Vietnam. During his service in Panama, he married Annie Marion Murray on April 5, 1949.
He was preceded in death by his Parents; his wife, Annie Marion Vail.
He is survived by, son, David and wife Boopy Vail; daughter, Teresa and husband Gary Martin; Grandchildren, Ali (Vail) Anderson, Kade MArtin, Trent Vail, Paxton Vail, Kristi (Martin) Ham; great grandchildren, Journi Vail, Brody Ham, Kutter Anderson, Eli Vail, Landry Deaton, Hayden Deaton, Halle Deaton.
A Graveside Service will be held on Friday, April 20th, 2018 at Pine Forest Cemetery near Pickton at 2:00 pm, Rev. Paul Bailey officiating, with Kade Martin, Trent Vail, Paxton Vail, Kris Anderson, Gene Troutz, Bill Egan serving as Honorary Pallbearers.
"OUR DAD WAS A PRODUCT OF HIS GENERATION, HE WAS HARDWORKING AND BELIEVED THAT WAS THE WAY TO GET AHEAD IN LIFE. HE WAS BORN DURING THE DEPRESSION RAISED UNDER EXTREME CONDITIONS CLEANED OUT COAL BINS AND SOLD THE RESIDUE COAL WHEN HE WAS FIVE YEARS OLD PULLING HIS WAGON FROM HOUSE TO HOUSE. THEN AT AGE TEN, HE WORKED THE MUCK FARMS HARVESTING CELERY HE WOULD GET UP BEFORE DAYLIGHT HAD A LARD SANDWICH IN A BERRY BUCKET WAIT AT THE CORNER WITH THE MEN FOR THE FLATBED TO PICK THEM UP THE MEN WOULD TOSS HIM UP ON THE FLATBED BECAUSE HE WAS TOO SMALL TO JUMP UP ON IT. THEN AT AGE TWELVE, HIS MOTHER FARMED HIM OUT TO A DAIRY FARM IN WISCONSIN WHERE HE WORKED FOR HIS ROOM AND BOARD AND SENT MONEY HOME TO HIS MOM FOR HER AND THE YOUNGER SIBLINGS. AT AGE SIXTEEN HE LOST HIS JOB AT A FACTORY BECAUSE THEY SHUT THE FACTORY DOWN, SO HIS MOTHER SIGNED HIM UP TO ENLIST IN THE ARMY/AIR CORP THIS WAS AT THE LAST FEW YEARS OF WORLD WAR II. HE ENDED UP MAKING A CAREER OF THE AIR FORCE. HE SPENT 21 YEARS AND RETIRED AND ALSO A VETERAN OF THREE WARS WORLD WAR II, KOREA, VIETNAM. HE WAS STATIONED IN PANAMA WHERE HE MET OUR MOM THEY FELL IN LOVE AND WERE MARRIED THERE. HE WAS ALSO STATIONED IN WASHINGTON STATE, DELRIO TEXAS, BUNKER HILL INDIANA WHERE MY BROTHER AND I WERE BORN, THEN HE WAS STATIONED IN ICELAND, the LAST STATION WAS DULUTH AIR FORCE BASE HE RETIRED THERE AFTER 21 YEARS OF MILITARY SERVICE. HE ALWAYS HAD A PLAN AND MADE A LIST OF THINGS HE WANTED TO ACCOMPLISH. HE TAUGHT US TO ESTABLISH GOALS AND HOW TO ACHIEVE THEM. HE TAUGHT US HOW TO TAKE CARE OF OURSELVES, HOW TO NOT BECOME VICTIMS OF LIFE'S MANY CHALLENGES. HE TAUGHT US HOW A GOOD EDUCATION IS IMPORTANT AND STRONGLY ENCOURAGED ME TO GO TO COLLEGE AND FULFILL MY DREAMS OF BECOMING A NURSE. HE WOULD OFTEN SAY WHATEVER JOB YOU HAD to DO IT TO THE BEST OF YOUR ABILITY AND DO IT WITH PRIDE YOU WOULD NOT GO UNNOTICED. HE WAS VERY ACCOMPLISHED IN THAT HE KNEW CARPENTRY, ELECTRICAL, PLUMBING, AND HOW TO KEEP EQUIPMENT RUNNING WHEN IT SEEMED VIRTUAL IMPOSSIBLE. HE LOVED TO FISH AND HUNT HE GOT HIS LIMIT ON DEER EVERY YEAR USING A RECURVE. HE TAUGHT US HOW TO USE A BOW. HE LOVED TO DO ACTIVITIES WITH US BASEBALL, BOATING, WATER SKIING, SNOWMOBILING, ICE SKATING. HE LOVED TO CHAPERONE OUR SCHOOL ACTIVITIES AND HELPED US GET OUR BADGES IN SCOUTS. AND HE STOOD BY US AND WOULD CHALLENGE ANYONE THAT HURT OR OFFENDED US. HE WAS A BIG JOKESTER LOVED TO TEASE UNMERCIFUL. HE ENJOYED COOKING AND HAD MANY BAR B QUES AND SPAGHETTI AND CHILI DINNERS. HE WAS VERY PATRIOTIC THE AMERICAN FLAG WAS VERY IMPORTANT TO HIM AND WHAT IT SYMBOLIZES. HE WAS AN ADVOCATE FOR THE FAMILY DAIRY FARMER FELT VERY STRONGLY ABOUT CERTAIN THINGS AND DID NOT MIND VOICING HIS OPINION. WE WILL MISS HIM FOREVER HE IS WITH OUR MOM AND FRIENDS THAT HAVE GONE ON BEFORE HIM, AND HIS COMRADES IN ARMS. OUR LIFE WITH DAD WAS A CHALLENGE AND AN INSPIRATION TO BE ACCOMPLISHED AND ALWAYS DO OUR BEST."