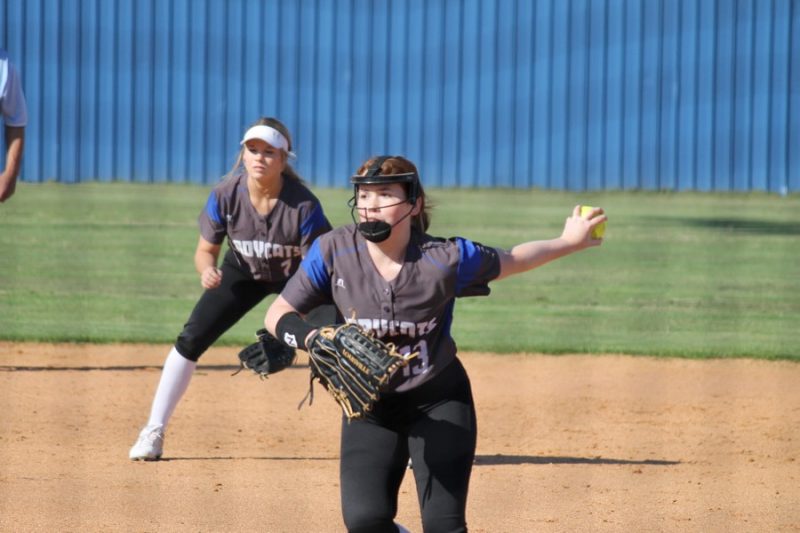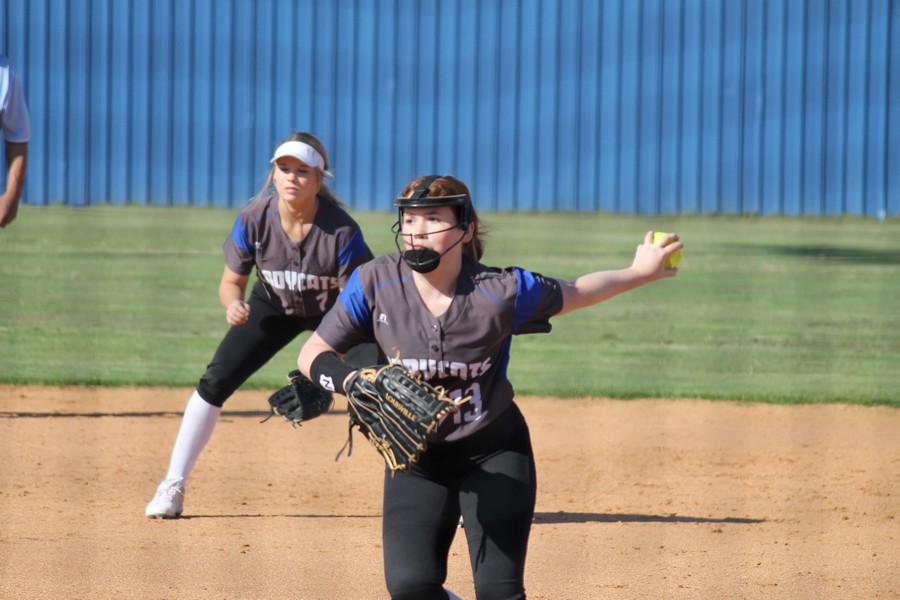 It was worth the wait. On Monday evening, the Lady Cats' softball team got to play a game postponed by rain last Friday and they came away with a close to perfect, 13-0 district win at Texas High.
Pitcher Bailey Haggerty took a no-hitter into the bottom of the seventh inning before giving up a solid single to right center field. She retired the next three Lady Tigers to complete the one-hit shutout. Haggerty faced only two batters over the minimum also walking a batter. She had 10 strikeouts.
Meanwhile the Lady Cats had 15 hits. They chipped away early against the Lady Tigers ace pitcher and then scored eight runs in the top of the seventh against a relief pitcher. Lady Cats Coach David Carrillo has been encouraging his team to get off to a quicker start and they did that Monday. The Lady Cats scored two runs in the top of the first. Alyssa Abron led off with a big time walk. She fouled off numerous pitches before finally getting a fourth ball. Kelsey Wallace then tripled Abron home and Wallace then scored on a Brinklee Driver single. The Lady Cats went up 3-0 in the top of the second scoring an unearned run. Macee Hollins scored as the result of two Lady Tiger errors. The Lady Cats added a fourth run in the top of the fourth. Wallace singled, moved up a base on a wild pitch and scored on a Driver single. The Lady Cats went up 5-0 in the top of the fifth. Kate Womack singled. Sierra Smith put down a sacrifice bunt that moved Womack to second. Womack went to third on a wild pitch and scored on a Hollins ground out. Then came the Lady Cats eight run top of the seventh. It featured seven hits and two Lady Tiger errors. After Alli Fite, Womack and Smith singled, two runs scored on errors. Wallace drove home a run with a single. Driver plated two runs with a single. Stroud singled and Fite cleared the bases with a three-RBI double over the left fielders head. Fite had four hits. Driver and Wallace had three hits apiece. Stroud and Womack had two hits. Smith had a hit.
With the win, the Lady Cats just need a Senior Night win over arch rival Mount Pleasant to claim the district championship. The Lady Cats are now 10-1 in district play and 23-5 for the season. The Lady Cats will recognize four seniors on Senior Night this Friday at Lady Cat Park: Alyssa Abron, Karlee Adams, Macee Hollins and Jacklyn Semler.
There will also be a field dedication at Lady Cat Park and at Wildcat Park during pregame ceremonies at each park on Friday.