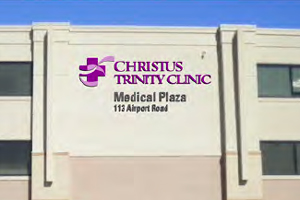 SULPHUR SPRINGS, TX – CHRISTUS Trinity Clinic, the Northeast Texas-based provider group and part of CHRISTUS Health, has been recognized with the American Medical Group Association's (AMGA) prestigious 2017 Acclaim Award. Each year, the award, supported by AMGA Foundation, rewards a single medical group or other organized system of care that are bringing the American health care system closer to the ideal delivery model – one that is safe, effective, patient-centered, timely, efficient and equitable.
"Receiving the AMGA's Acclaim Award is a wonderful recognition of the effort and dedication built upon the foundation set forth by the Sisters of the Holy Family of Nazareth, the Sisters of Charity of the Incarnate Word of Houston and the Sisters of Charity of the Incarnate Word of San Antonio many years ago. Through the faith-based efforts of our Physicians, Advanced Practice Providers and Associates, CHRISTUS Trinity Clinic will not only continue to serve the people of Northeast Texas diligently, but grow to expand access to the highest quality health care as Northeast Texans have come to expect," said Chris Glenney, FACHE, Senior Vice President of Group Operations, CHRISTUS Health and Chief Executive Officer, CHRISTUS Health Northeast Texas.
The mission of the Acclaim Award is to honor the nation's premier health care delivery organizations that are high performing and are bringing their organization closer to the ideal medical group and health system by measurably improving the quality and value of care; improving patient experience and outcomes; continuously learning and innovating; and improving population health.
"The mission of our organization is to extend the healing ministry of Jesus Christ. It is very simple, but it means so much. It guides our choices and direction in all that we do," said Scott Smith, M.D., Senior Vice President and Institute Chair of Primary Care for CHRISTUS Trinity Clinic. "Our Mission and our values are who we are as a System – and our strategy is how we enact that mission. Our strategy is to make our communities healthier and help people gain access to exceptional health care as conveniently as possible by collecting and acting on significant data to connect them to the services they need and the providers to deliver it."
CHRISTUS Trinity Clinic is improving quality of care and reducing the cost of health services while achieving and maintaining high levels of patient satisfaction and provider engagement. AMGA's High-Performing Health System™ (HPHS) attributes, along with their core mission principles, guide their physicians, advance practice providers, clinical staff and support staff to provide the highest quality of compassionate care.
"We pride ourselves on our commitment to bringing the best patient care and services to Northeast Texas. This has been an integral part of CHRISTUS Trinity Mother Frances Health System's mission as a faith-based health provider for almost 80 years, and we will continue to realize that vision for Northeast Texas for years to come," said Steven Keuer, M.D., Chief Medical Officer of CHRISTUS Trinity Mother Frances Health System and President of CHRISTUS Trinity Clinic.
CHRISTUS Trinity Clinic joins the respected ranks of past Acclaim Award recipients like Premier Medical Associates, Permanente Medical Group, Geisinger Health System and other internationally renowned health care providers.
"We are honored to receive this prestigious award by the AMGA and congratulate all of our physicians and hardworking teams," said Jason Markham, Chief Administrative Officer of CHRISTUS Trinity Clinic.
Below are highlights of the initiatives which led to CHRISTUS Trinity Clinic being named the 2017 Acclaim Award Recipient, according to the AMGA:
Accountability
* Dashboards were created for all departments within the system and grouped with the HPHS attributes.
* CHRISTUS Trinity Clinic hired an external physician-coaching firm, which interviewed each physician leader and executive team member in order to create a custom leadership curriculum that would best fit the needs of their leadership team.
* Monthly meetings between directors and managers, as well as between managers and their team members, promote an environment of accountability related to departmental performance targets.
Care Coordination
* Quality reporting was upgraded to a self-service, web-based reporting portal, and results are shared at monthly meetings of providers and their teams.
* The system employs care coordinators and assigns them to a primary care team of providers. At each location, the care coordinator supports the Patient-Centered Medical Home (PCMH) model via pre-visit planning, scheduling of appropriate preventive services, and identifying any concerns or health problems the patient may have for his/her upcoming physician appointment.
* Pursuit of quality is powered by value-based contracts that cover approximately 25-percent of adult primary care patients.
Compensation Practices and Incentives
* To remain successful with ever-changing physician reimbursements, CHRISTUS Trinity Clinic began modifying their physician compensation structure to align with value-based incentives.
Efficient Provision of Services
* Their medical group division, in conjunction with Medicare Shared Savings Program (MSSP) Track 1 ACO, has implemented claims and electronic health record data analytics to impact the per capita cost of health care.
Organized Systems of Care
* CHRISTUS Trinity Clinic's multidisciplinary, employed medical group is supported with a fully integrated electronic medical record. This entire network of providers and facilities could not operate efficiently and effectively were it not for the shared governance structure that incorporates physician leadership in all clinical decisions and strategy, sound financial stewardship, administration and management.
Quality Measurement and Improvement Activities
* Their Quality Committee has excelled in fulfilling its vision statement to use the resources available to help clinicians efficiently provide safe, evidence-based, high-quality care. As a result, they evaluate and attempt to improve performance in many areas outside of traditional quality metrics.
Using Technology and Evidence-Based Medicine
* The system heavily promoted the use of a patient portal to teams and patients as a tool to achieve patient-centered and timely care. Through the use of the patient portal, patients are better able to be engaged in their health care and better understand the clinical decisions made during their visits through access to after-visit summaries of all their recent visits, lab results, vital signs and imaging results.
* CHRISTUS automated a process whereby a patient's elevated blood pressure would trigger the EMR to include hypertension information on the after-visit summary. These tools also assisted providers in the reduction of duplicated testing and services, reduced medication errors through best practice advisories when contradictions appeared, allowed up-to-date medication reconciliation and speedy referrals, and expedited prescription ordering.
"Though CHRISTUS Trinity Clinic has only been serving patients in the Sulphur Springs area for a relatively short period of time, the people of this community have had the chance to experience the dedication, compassion and sophistication that the caregivers provide," said Kristi Stern, Administrative Director of Operations for CHRISTUS Trinity Clinic in Sulphur Springs. "From the convenience of the MyChart portal to the expansion of services and providers, CHRISTUS Trinity Clinic has prioritized the health of the people of this community. We will continue to work with our community to provide nationally-recognized health care services to the people of Sulphur Springs, Emory and the surrounding areas."
CHRISTUS Trinity Clinic is a not-for-profit multi-specialty practice founded in 1995 and is part of CHRISTUS Health's Northeast Texas Region, which also includes CHRISTUS Trinity Mother Frances Health System, CHRISTUS Good Shepherd Health System and CHRISTUS St. Michael Health System. The group of distinguished providers includes more than 650 physicians and advanced practice professionals with over 41 specialties providing a world-class continuum of care to patients in 82 locations across an area that would measure as the country's 40th largest state.
"CHRISTUS Trinity Clinic is on the front lines of keeping people healthy in a community, and the strategies being recognized by the AMGA are helping to build healthy communities across every area touched by CHRISTUS Health. Driven by our mission, this strategy is not just about bricks and mortar, but about the hands that heal and the spirit of service," said Ernie Sadau, CHRISTUS Health's President and Chief Executive Officer.