COMMERCE, TX— The Texas A&M University-Commerce indoor track and field teams claimed two National Championships at the NCAA Division II Indoor Track and Field Championships March 9-10.
The Lion men claimed 5th place, a program best, in the team standings, and the women placed 29th at the NCAA Division II Indoor Track and Field Championships.
"I am tremendously proud of how our team came out and competed over the course of the two days at the National Championship," said Lions head coach George Pincock. "It's not every day that you have the opportunity to have two individual National Champions, and a team that finishes among the top-5 in the nation."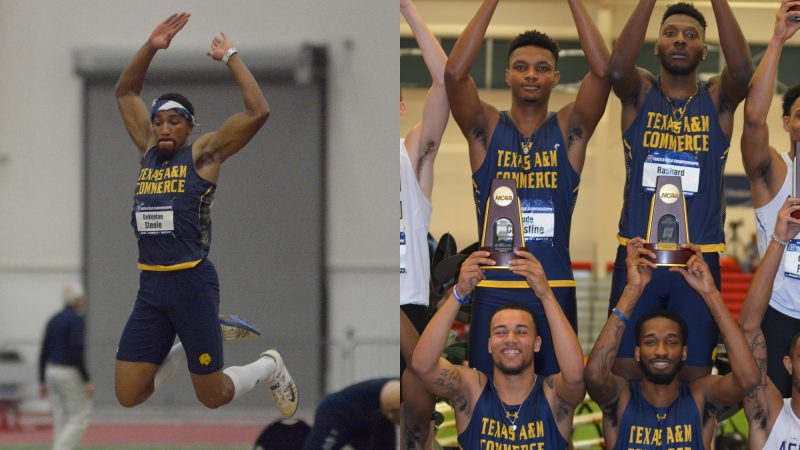 Senior DeVontae Steele was the favorite to win the triple jump again as he claimed his second Division II title, setting a school record with the 12th-longest triple jump in Division II history on his final attempt.
The 4×400 meter relay team of Jude Christine, Dedrian Windham, D'lance Sharp, and Rashard Clark won the national title, by nearly two seconds, with the third-best time in Division II history. Windham earned first team All-American honors after placing third in the 400-meter dash. Clark earned first team All-American honors in the 200-meter dash after placing sixth and was named the Lone Star Conference Male Indoor Track Co-Athlete of the Year.
Florian Obst earned second team All-American honors with an 11th-place finish in the heptathlon and had a personal best in the 1,000 meter run.
"With the success of the men's team, it is almost easy to miss some of the great amazing things the women's team accomplished this year. I can't remember a week were there wasn't at least one school record set," said Pincock. "For them to end the indoor season with five All-Americans is a milestone for this program and what I hope will be a catalyst for continued growth."
The women's 4×400 meter relay team of Minna Svaerd, Ro'nisha Simpson, Joy Spann, and Kamryn McKee set a new school record with their 5th-place finish. McKee secured first team All-American honors in the 400-meter dash with a 6th place finish.
Pincock was named LSC Men's Track Coach of the Year for the second consecutive indoor season after leading the Lions to their fourth consecutive LSC indoor championship and 23rd overall LSC track title. This is his third LSC Coach of the Year honor including the 2017 outdoor award.