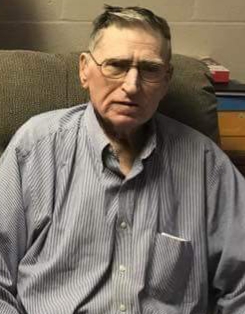 Funeral service for  Rev. Lee Emerson, age 94, of Sulphur Bluff will be held Tuesday, 10:00 a.m., March 27, 2018 at Sulphur Bluff Baptist Church with Bro. Charles Rawlinson and Bro. Robert Burns officiating. Military graveside honors by the Hopkins County Military Coalition will follow at Sulphur Bluff Cemetery with Colton Emerson, Dakota Emerson, Johnny Green, Toney Hurley, Montana Hurley, Reggie Emerson, David Maag, and Jim Martin serving as pallbearers. Honorary pallbearers will be George Bassham, Weldon Glossup, and JW Ragan. Mr. Emerson passed away Friday, March 23, 2018, at Clarksville Nursing Facility in Clarksville.
Lee was born November 10, 1923 in Sulphur Bluff the son of Luther Emerson and Sally Verona (Moore) Emerson. He married Sterlena Sharp on October 19, 1945 in Saltillo, she survives. Lee was in the United States Army and attended East Texas Baptist College. He was a Baptist Minister for over 70 years.
In addition to his wife, he is survived by sons, Jimmie Emerson and wife Katherine of Dike, Troy Emerson and wife Tammi of Paris, and Kenneth Emerson and wife Jeannie of Dolphin, AL, daughters, Patsy Martin and husband Jim of Tira, Ladena Daniels and husband David Maag of Dike, brother-in-law Truman McDaniel, sisters-in-law, Nancy Emerson, Betty McDaniel, and Artie Mae Bailey, grandchildren, Connie Waller of Paris, Paula and husband Jody Tetlow, Cindy Jones and husband Josh of Blossom, Pamela Daniels and husband Nick Martinez of Sulphur Springs, Lori Green and husband Johnny of Dike, Michelle Hoover and husband Kevin of Mt. Vernon, Mitchell Petrea of Sulphur Springs, Reggie Emerson and wife Hilliary of TN, Jennifer Elkins and husband Alexander of AL, Champion Emerson of AL, Colton Emerson and wife Laryn of Miller Grove, Dakota Emerson of Miller Grove, and Kason Humphries of Paris, 23 great-grandchildren and 5 great-great-grandchildren.
He was preceded in death by his parents, brothers, L. Roy Emerson, Bud Emerson, and Glenn Emerson, sisters, Lou Cunningham, Velva Emerson, Monna McClung.
Arrangements under the direction of West Oaks Funeral Home.