North Hopkins One Act Play Advances from District to Bi-District with their play "The Eden Echo".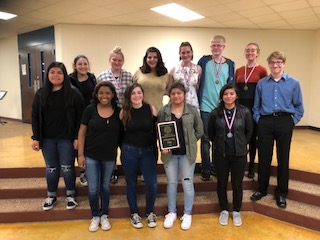 After many early morning and late night practices the One Act Play department at North Hopkins High School finally gets awarded top two at District Competition.
The Actors and Crew Member also received many awards. Clayton Brandenburgh received the tech award. Breeanna Hicks was named Best Actress. Kelsey Horton and Cecile Lozano were awarded All-Star Cast awards. Mattie Hall was awarded Honorable Mention Cast.  The One Act Play director Lisa Sprague commented, "So proud of my students. They were all great today, cast and crew". The next competition for North Hopkins will be March 10th in Lindale.