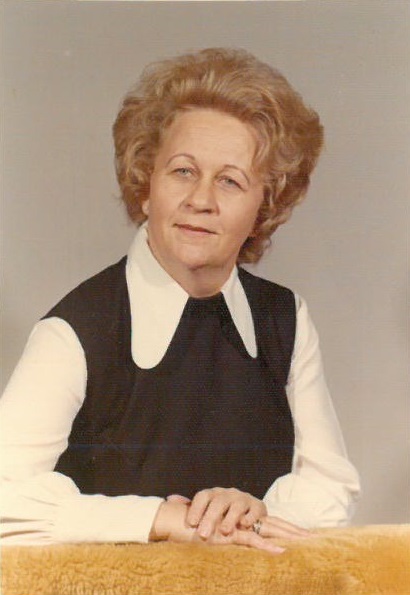 Graveside service for Margie Woods Pope, age 91, of Sulphur Springs will be held at 12:00 P.M. on Saturday, March 24, 2018 at Mt. Vernon City Cemetery with Garry Jordan officiating and Chad Mahand, Brian Alley, Zack Mahand, Brady Mahand, Steve Cupps and Frank Pope serving as pallbearers.  Visitation will be held from 10:00 to 11:00 A.M. on Saturday, March 24, 2018 at Murray-Orwosky Funeral Home. Ms. Pope passed away on Tuesday, March 20, 2018 at Carriage House Manor, Sulphur Springs, TX.
Margie Evelyn Woods Pope, daughter of Joe and Esther Woods, was born in Mt. Vernon, Texas.
Margie joined the First Baptist Church of Mt. Vernon, Texas at the age of eleven and was baptized.    When she was unable to attend, she watched services on TV.  During her early years the family moved around picking cotton and digging potatoes for employment and housing.  She enjoyed school as she was a straight A student.  She later moved to Sulphur Springs and was a charter member of Wesley United Methodist Church where she was a member of the choir for many years.   She was devoted to her elderly father and mother.  Her mother being the devoted housewife and cook while her father the one who made sure everyone went to church every Sunday.  That devotion to family and church stayed with her throughout her life. Margie worked as a waitress prior to her secretarial job with the Department of Human Services where she worked for 26 years until her retirement.  She helped many elderly people over the years with their needs as she was very familiar with state forms and rules.  When her children were older she went to beauty school in Tyler, Texas and continued to hold her license.  At age 70 she tried her hand at the computer taking some courses. She also earned her Ballroom Dance Certification from East Texas State University. She loved good hymn singing, sewing as she made all the family clothes, cooking and taking care of her children.  She loved to keep her house and yard beautiful. After retirement she enjoyed painting, playing a lively game of 42 and dancing, but her family always came first in her life.
She was preceded in death by her parents,  brothers, James Woods, Arthur and a sister Alene Singleton.  A sister Loretta Vaughn of Greenville survives. She is also survived by her children, Rhonda Alley, Brenda Cupps (Steven) and Frank Pope (Susan).  She is survived by 5 grandchildren: Chad Mahand (Theresa) of McKinney, Tx, Brian Alley of California, Sara Markovic (Neil) of New Jersey, Mitzi Alley of Commerce, Tx, Jessica Pope of Sulphur Springs, Tx and Mike Cupps of Pennsylvania.   She has 7 Great Grandchildren: Zack Mahand, Wesley Mahand (KayeLin), Brady Mahand, Logan Markovic, Dominic Groboski, Jarred Cupps, Gabe Cupps and 1 great-great grandchild  JJ Cupps.
Memorials can be made to Wesley Methodist Church, Sulphur Springs.
Services under the direction of Murray Orwosky Funeral Home.