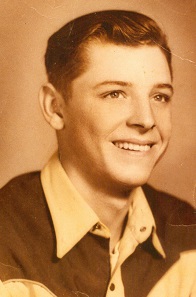 A private family gathering for Kenneth Wayne Grubbs, age 88, Cooper, will be held at a later date.
Mr. Grubbs passed away on Sunday, March 4, 2018 at Birchwood Manor in Cooper. He was born on April 2, 1929 to Elmer Grubbs and Flossie Mae Wesson Grubbs in Arbala.  He attended the Grubbs Community School and was a retired truck driver.
Survivors include: daughters: Vickie Mathews, Martha Oppenheim and husband, Jeff, Jane Hammons and husband, Lonnie, Teresa Flannery and husband, Paul, Phyllis Pinson and husband, Terry, all of Sulphur Springs, Lisa House and husband, David, of Paris and Debi Grubbs Smith; sisters: Ralphie Harrod of Yantis and Peggy Gamblin of Red Oak; twenty-two grandchildren; thirty-eight great grandchildren; eleven great, great grandchildren.
He was preceded in death by his parents; son: Rickey Wayne Grubbs; two brothers; one sister; one granddaughter.