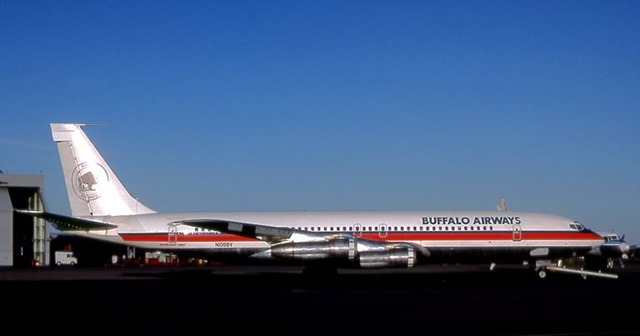 This Boeing 707-382B (c/n 20297/836) was originally delivered to TAP Air Portugal as CS-TBF in February 1970. It was sold to Buffalo Airways as N105BV in November 1983. It was finally seized by the U.S. Government from smugglers in 1985 and turned over to the USAF in October 1985.
Buffalo Airways N105BV arrived at E-Systems 30 September 1985 and departed to Andrews AFB on 24 March 1988 as C-137C 85-6974. The airplane was disassembled and completely overhauled to zero time with interior and communication system installation. All systems were functionally checked, exterior painted and completed several test flights.
On 24 March 1988, the 89th MAW at Andrews Air Force Base cheered the arrival of its newest aircraft  C-137C tail number 85-6974. SAM 974 was similar to the two Presidential VC-137C aircraft currently in the fleet. However, the retrofitted aircraft was to be used for special air missions for the Vice-President, members of the Cabinet, Congressional leaders and other senior United States and foreign dignitaries.
SAM 974 was a modified version of the Boeing 707-320 commercial airliner, and was specially equipped for the 89th mission. It had a new technologically advanced communication suite. This communications system was a prototype for the two new VC-25A Boeing 747 "Air Force One" delivered in late 1988 and early 1989. The Communications system provided passengers with global communications capabilities, whether airborne or on the ground.
SAM 974 was scrapped in June of 2004 after many years of service at Andrews Air Force Base.
The included information comes from local Sulphur Springs resident Tony Hughes. Mr. Hughes worked on, performed engine run up, pre-flight/post flight and flew as an aircraft mechanic observer on FCF's (functional check flight), along with supervising hangar and flight line operations for over 40 years (1956-1996) at the Greenville, Tx. plant, formerly known as TEMCO. The Greenville plant started as Temco (Texas Engineering & Manufacturing Co.) and changed to Ling-Temco Electronics, Inc. in 1960, then Ling-Temco-Vought, Inc. in 1961. The company changed again to LTV Electrosystems, Inc. in 1965, and E-Systems, Inc. in 1972. In 1995 a merger changed the name to Raytheon/E-Systems, and now the company has been managed by L-3 Communications since 2002.