The VC-137B serial 58-6972 or same as SAM 972 had the same body as the 707-120 commercial aircraft but with different interior furnishings and electronic equipment. It was built as one of three VC-137As, Boeing model 707-153 with Pratt and Whitney JT-3 turbojets. It was delivered to the Air Force on June 30, 1959 and was redesignated VC-137B when it was refitted with JT3D turbofan jet engines in May 1963. Assigned to the 89th MAW at Andrews AFB, Maryland its primary mission was to provide first class, worldwide transportation for the Vice-President of the United States, Cabinet members and international dignitaries.
The interior of SAM 972 was divided into three sections: Forward (crew area), center (stateroom) and aft (passenger). The forward section had a communications center, a galley, lavatory and 13-seat compartment with one table and two overhead bunks. The center section was designed for VIP, with conference tables, swivel chairs, projection screen, two convertible sofa-bunks and a lavatory. The aft section was a combination staff and passenger areas, and contained a Xerox machine, reclining seats, overhead bunks, tables, galley two lavatories.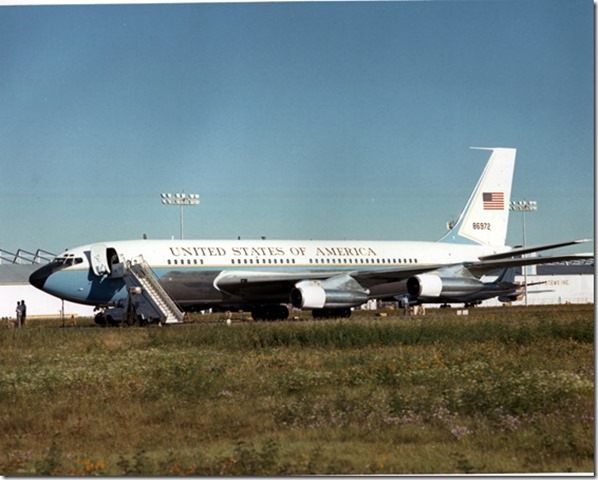 The VC-137B was usually operated by an augmented crew of about twenty, including three pilots (two were qualified aircraft commanders), two navigators, two flight engineers, one crew chief, two communication systems operators, six flight attendants and four security guards.
All of the VC-137B's and C's were at E-Systems many times for maintenance and modification beginning in 1973 through 1994.
58-6972 was scrapped in 1996 due to severe corrosion.
The included information comes from local Sulphur Springs resident Tony Hughes. Mr. Hughes worked on, performed engine run up, pre-flight/post flight and flew as an aircraft mechanic observer on FCF's (functional check flight), along with supervising hangar and flight line operations for over 40 years (1956-1996) at E-Systems, Inc., the Greenville, Tx. plant formerly known as TEMCO.