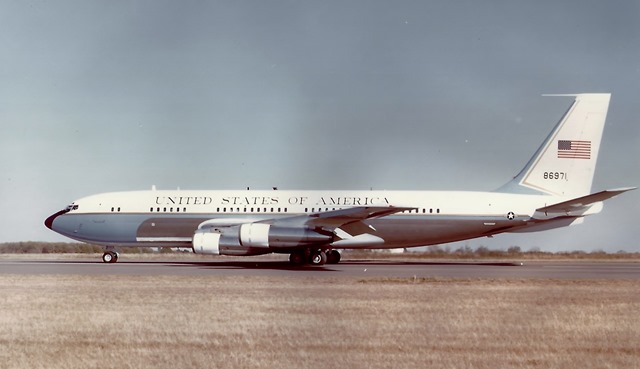 One of three 707-153s bought "off-the-shelf" and converted to military use. 58-6971 was completed as a VC-137A by Boeing Aircraft of Seattle, Washington on April 7, 1959. On May 30, 1959 this aircraft was accepted by the U. S. Air Force, painted in Military Air Transport Service colors and markings and assigned to the (Special Missions) Squadron at Andrews AFB, MD.
USAF procurement of the Boeing 707 was very limited, amounting to three Model 707-153s designated VC-137A. When delivered in 1959 these had four 13,500 lb dry thrust Pratt & Whitney J57
(JT3C6) turbojets; when subsequently re-engined with 18,000 lbf dry thrust TF33-P-5
(JT3D) turbofans they were redesignated VC-137B.
Depot maintenance and modification was performed on all VC-137 aircraft at E-Systems in Greenville, TX 1973 thru 1994.
58-6971 has been displayed at the Pima Air Museum in Tucson, Arizona since October 1999.
Manufacture Date: 12-5-1959
Age: 60 years 4 months
Specifications:
Wingspan: 130 ft 10 in
Length: 144 ft 6 in
Height: 42 ft
Weight: 257,000 lbs (loaded)
Max.Speed: 623 mph
Ser.Ceiling:37,500 ft
Range: 3,217 miles
Engines: 4 Pratt & Whitney TF33 (JT3D-3) turbofans
Crew: 18, Passengers: 40
The included information comes from local Sulphur Springs resident Tony Hughes. Mr. Hughes worked on, performed engine run up, pre-flight/post flight and flew as an aircraft mechanic observer on FCF's (functional check flight), along with supervising hangar and flight line operations for over 40 years (1956-1996) at E-Systems, Inc., the Greenville, Tx. plant formerly known as TEMCO.