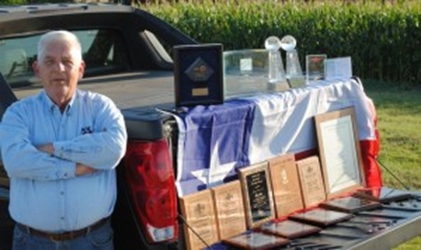 His iconic voice that was often a wake-up call to many KSST listeners is now silenced in death. Texas State Network Agriculture Director Tony Purcell's death came as "…a sorrowful surprise for his wonderful family and our Texas State Networks team," according to Raul Jaurequi, TSN Affiliate Relations Director.  A tribute to Purcell will be aired on the Lone Star Farm and Ranch Report Friday.
Purcell joined Texas State Networks in 1998. He helped the network gain a #1 ranking in the AMR ratings, won 4 "Oscar's" in Agriculture, six NAFB "Best Newscast" honors, and seven awards in the "Best Market Cast" category. Along with the Friday Lone Star Farm and Ranch Report tribute, TSN Facebook Page will include a tribute allowing people to share their thoughts.
TSN will continue to provide their complete portfolio of Agriculture programming and will seek a permanent "Voice of Texas Agriculture" in the near future.