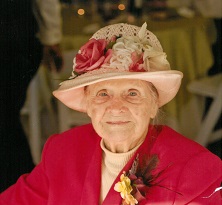 A Memorial Service for Jimmie Geiswite, age 97, of Sulphur Springs, will be held at Pleasant Grove Methodist Church in Princeton, TX on Saturday, February 24, 2018 at 2:00 PM with Pastor Bob Miller officiating.   No visitation has been scheduled.
Ms. Geiswite passed away on Friday, February 2, 2018 at Sulphur Springs Health and Rehab. She was born on February 24, 1920 to Walter Wyatt and Myrtle Joyce Tombs Wyatt in Farmersville, TX.  Jimmie worked as a salesperson in retail sales and was of the Pentecostal faith.
Survivors include: granddaughters: Stephanie Coleman and husband, Shorty of Sulphur Springs, Kim Callerman and husband, Max, Vanessa Smith and husband, Jackie;  grandsons: Curtis Clark and wife, Winona of Mesquite, and Jeff Clark; 17 great grandchildren; 27 great, great grandchildren; brother: Bill Wyatt; sisters: Jewell Lindley, Joyce Miller and Beth Baker.
She was preceded in death by her parents; step-dad, Clayborn Clifton; son: Charles Conrad Clark; grandson: Mike Clark; great grandson: Justin Clark; brothers: Virgil Wyatt, Walter Glen Wyatt, George Clifton, Hollis Clifton, Kenneth Clifton and James Clifton; sister: Alice Baker.