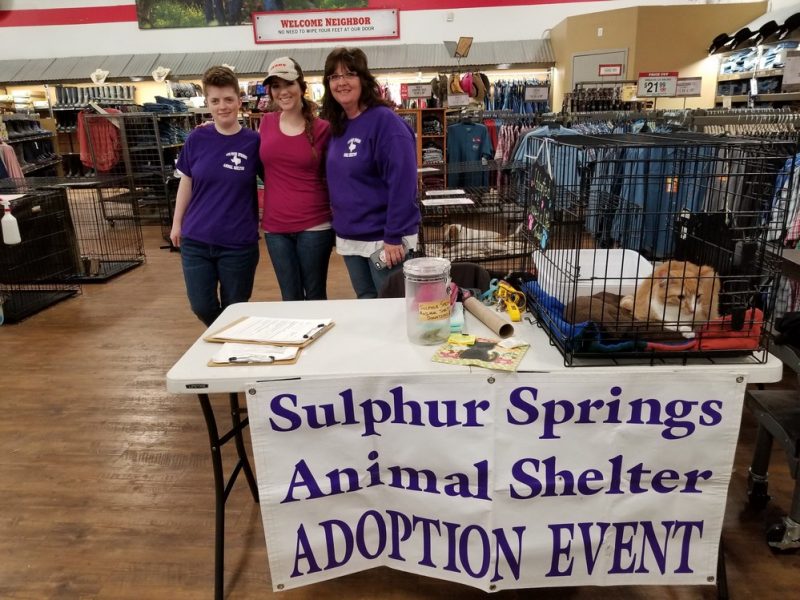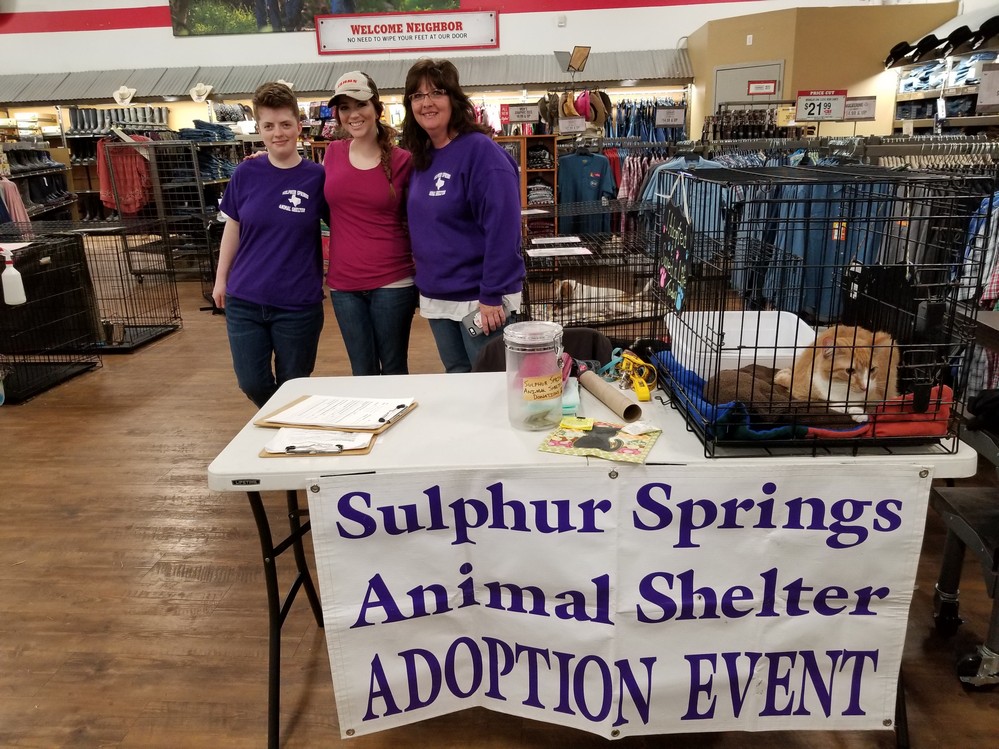 Sulphur Springs Animal Shelter was on hand Saturday at Tractor Supply from 10:00 a.m. to 3:00 p.m. with an offsite pet adoption event. Volunteers Molly, Cara
and Amber lovingly looked after the various dogs and cats they had brought to the event while answering questions for individuals as they passed through the
area.
Molly spoke with KSST about the needs of the shelter. "Currently, we have 25 volunteers and a few foster families that care for the needs of the animals at the
shelter." Right now, the greatest need is for families to adopt or foster the dogs from the shelter. Sometimes there is not enough room to accommodate all the
dogs that come in to the shelter. "Foster families make it possible to give animals more time to be seen and get adopted." Donations are always needed and welcome.
Click here  to see more photographs and descriptions of the animals currently awaiting adoptions.
The Sulphur Springs Animal Shelter conducts regular offsite adoptions at these locations on Saturdays.
Tractor Supply – 1st and 3rd Saturday of the Month
Atwoods – 2nd Saturday of the Month
Lowes – 4th Saturday of the Month
For more information about any of the animals or to volunteer or serve as a foster family contact Barbi or Annie at the Sulphur Springs Animal Shelter: call them at 903-438-9369 or Email: [email protected]
Things to keep in mind when adopting a new pal: Sulphur Springs Animal Shelter is a small animal control/shelter facility managed by Animal Control Officers and overseen by the Sulphur Springs Police Department. This is a kill shelter with limited space. Ask about animals who are up for adoptions but are kept offsite with foster families. There is a $100.00 adoption fee which is to be paid at the time of adoption. After you take your new pet home, you have 30 days to spay or neuter your pet. These services regularly cost between $150.00 and $200.00.
The Sulphur Springs Animal shelter is located at 1313 Hillcrest Dr N, Sulphur Springs, TX 75482. Hours : 9:00a.m. untill 5:00p.m. Monday through Friday.