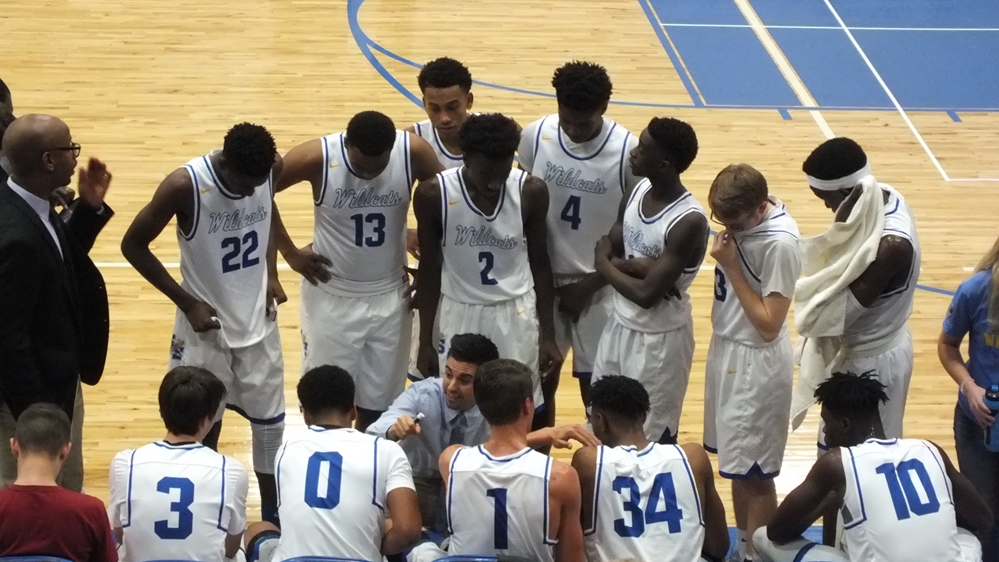 The #8 ranked Wildcats' basketball team jumped on Greenville early, then build a big half time lead before cruising through the second half in a 63-37 win in Wildcats Gym Tuesday night. The Wildcats led the Lions 15-4 after the first quarter and 40-14 at the half. Both teams scored 23 points in the last two quarters. All thirteen Wildcats players saw action and eleven of them scored points. Bryson Lynn led the Wildcats with 11 points including three three-point baskets. Victor Iwuakor got 10 points. Michael Jefferson scored 9 points including three three-pointers. Cameron Kahn scored 7 points coming off the Wildcats bench. Keaston Willis, Godsgift Ezedinma and Day Day Hall all scored 6 points. Dedric Godbolt had 3 points. Iverson Wade and Xavier Cork scored 2 points each. Jeremiah Roland added 1 point. Greenville's Jeremiah Abrego led all scorers with 15 points.
Coaches are usually not 100% satisfied after any game. The Wildcats basketball team defeated Greenville, 63-37 in Wildcats Gym Tuesday night. Wildcats Coach Clark Cipolleta found some things to like and other things he didn't care for in the win. He liked the way the Wildcats came out and jumped on Greenville building up a big lead at halftime. After that Coach Cipoletta said he did not think the Wildcats played very hard after getting way ahead in the game. He said the Wildcats gave Greenville too many offensive rebounds. There were also things like several missed dunks. Coach Cipoletta said he liked the way his second group played. He said they worked hard to share the ball and make defensive stops. Coach Cipoletta said a win is a win and he added he was pleased with the win. All thirteen Wildcats got to play and eleven of them scored points. Coach Cipoletta said the team is a fun group but he added, sometime they have a little too much fun. He said he has to remind himself he is dealing with teenagers.
The #8 ranked Wildcats are 5-0 in district play and 22-3 for the season. The win was the Wildcats fourth in a row. They continue district play Friday night at Hallsville. Coach Cipoletta said he believes Hallsville may be the second toughest place to play in the district behind only Mount Pleasant.