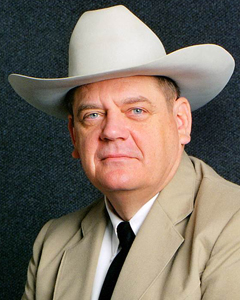 [Editor's note: As News Director at the time of the action of Texas Ranger Danny Rhea and having know him on a professional level, Rhea was a man of honor who epitomized the legend of the Texas Rangers.
Danny Rhea, retired Texas Ranger, died January 20, 2018 in San Angelo, Texas after a lengthy illness. Ranger Rhea was assigned to the Sulphur Springs area where his valorous and professional response  in a crisis situation earned him the Texas Ranger Medal of Valor in June 1998.
His commendation tells the story: "Awarded in recognition of his valorous and professional response exhibited during a crisis situation where he faced a deranged individual holding what was believed to be an explosive device in a Texas Department of Public Safety building.
On January 6, 1998, Ranger Sergeant Danny V. Rhea assisted Trooper Cody Sanders and Trooper George K. Harris in dealing with a man who was carrying what was identified as a bomb at the Sulphur Springs Texas Department of Public Safety office. The man told Trooper Harris to evacuate the building because he was going to blow himself up. The building was evacuated and the officers negotiated with the man for almost an hour believing he was holding an explosive device and intended to detonate the device. The man eventually displayed a handgun and pointed it at Trooper Harris. Ranger Sergeant Rhea then fired one shot, fatally wounding the man.
Ranger Sergeant Rhea's courage, decisive action, and dedication to duty in this tense and volatile situation bring great credit to him, the Texas Department of Public Safety, and the profession of law enforcement."
Rhea served as a Ranger from 1988 to 2003. He had joined the Department of Public Safety in 1976.