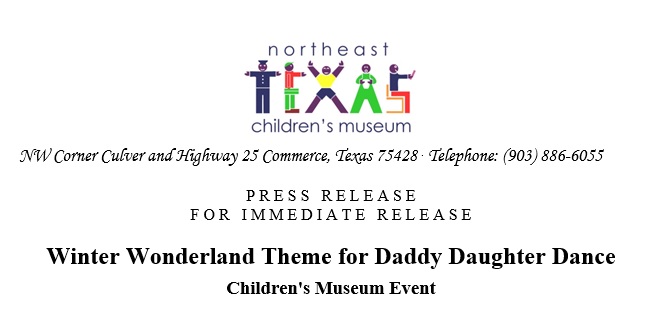 (January 12, 2018, Commerce, Texas)  "Winter Wonderland" will be the theme for the 2018  Daddy Daughter Dance at the Northeast Texas Children's Museum.   With snowflake decorations and special crafts for the winter theme, the night will be a special time for young ladies and dads, granddads, and uncles.  The event will be held at the Children's Museum on February 3 from 6:30 to 9:00.
Bryan Beezley of Beezley DJ Services will return as the disc jockey.  Volunteers will be available to help the young girls on the dance floor.  Also, returning will be Marissa Cowles with Twist-It Creations.  "Marissa's balloon entertainment continues to be popular with the young girls," said Donna Tavener, Board President.   Photographer David Hambrick will be available for special photos for the evening.  These will be available for purchase.
"After nine Daddy Daughter Dances, we have the best in every area.  Kathy Erwin, a former caterer, will provide a very special menu for the girls.  She can do this thanks to the generosity of the Thalians Culture Club who will again sponsor the food. Decorations by Beckey Thompson are the best, and she continues to have new ideas for each Daddy Daughter Dance.  With the help of this professional group, the Children's Museum's offers a wonderful evening for the young girls and their escorts," said Sharline Freeman, Executive Director.  Crafts, face painting, and an opportunity for play in the museum will also be part of the evening.
Discounted tickets are now on sell at the Northeast Texas Children's Museum and can be purchased by calling 903-886-6055. Tickets purchased before January 20 are $30 for each girl and her escort; tickets purchased between January 20 and February 3 are $35. On February 3, the day of the event, tickets will be $40 for each couple. Additional young girls will be $10 each. Thanks to generous donors, scholarships are available for the event.
-end-
For additional information, contact:
Sharline Freeman, Executive Director
Northeast Texas Children's Museum
NW Corner Culver and Highway 50
Commerce, Texas 75428
Telephone: (903) 886-6055 or (903) 456-4789
Email: [email protected]