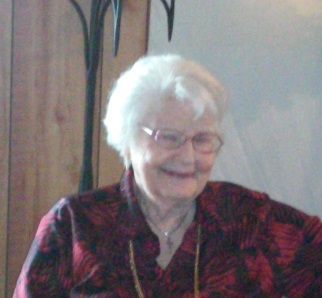 Funeral service for Lois Dyce, age 99, of Sulphur Springs,TX will be held at 11:00 A.M. on Thursday, January 11, 2018 at Murray-Orwosky Funeral Chapel with Pastor James Waskon officiating. Interment will take place at Arbala Cemetery with Elvon Nowlin, Don Fillis, David Pool, Doug Pool, Weldon Marshall Jr. and Harold Ball serving as pallbearers. Visitation will be held from 6 to 8 P.M. on Wednesday, January 10, 2018 at Murray-Orwosky Funeral Chapel.  Mrs. Dyce passed away on Saturday, January 6, 2018 at Hunt County Regional Hospital, Greenville, Texas.
Lois Estell Dyce was born on June 12, 1918 in Arbala, Texas, the daughter of William and Ruby Wesson. She married John Dyce whom preceded her in death.  Lois was a retired seamstress and of the Baptist faith.
She is survived by her daughters, Georgia Gafford and Rosezana Miller; grandchildren, David Pool, Doug Pool, Dana Huisgen, Dan Follis, Weldon Marshall Jr., Brandie Marshall, Chris Miller; great grandchildren, Cassady Jackson, Kristie Smith, Donald Follis, Tristan Follis, Parker Follis, Bailee Follis, Cutter Follis, Cash Follis, Joshua Heath, Jordan Heath, Jeremiah Heath, Chance Marshall; seven great great grandchildren; sister, Ruby Nowlin.
Lois was preceded in death by her parents; husband; several brothers and sisters.
Funeral arrangements are under the direction of Murray-Orwosky Funeral Home.