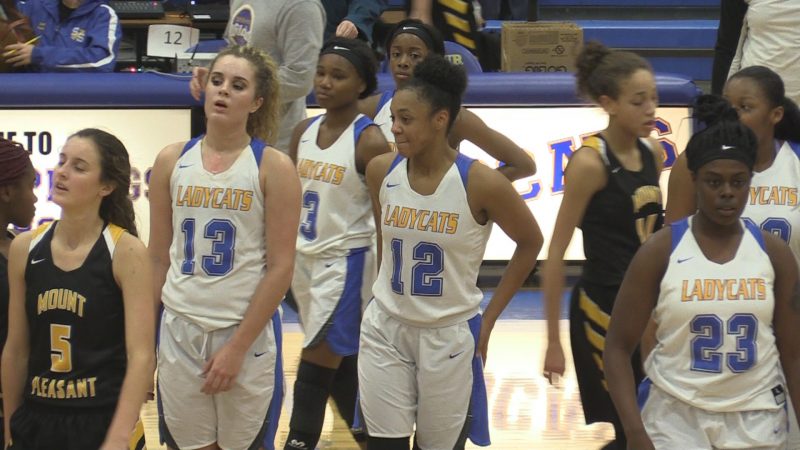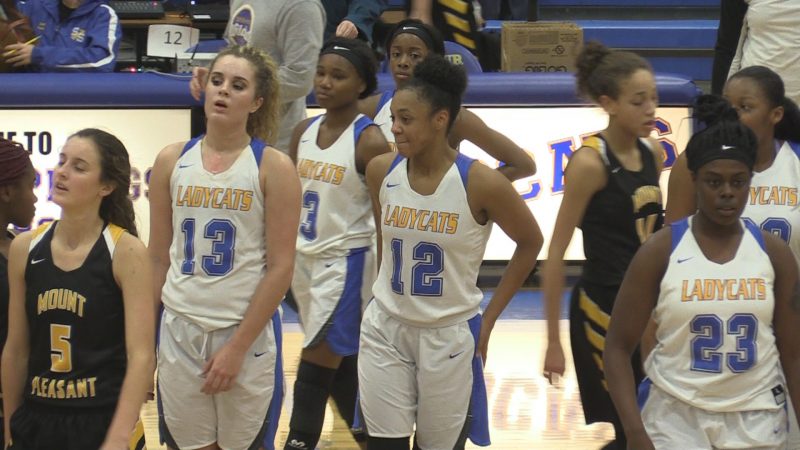 The #9 ranked Lady Cats' basketball team shot a torrid 60% from the field to overwhelm Mount Pleasant, 68-33 in Wildcats Gym Friday night (January 12). The Lady Cats hit 29 of their 48 shots. They got off to a good start and led the Lady Tigers 18-7 after the first quarter.
Autumn Tanton led the way early with 8 first quarter points. With Kaylee Jefferson on the bench with foul trouble in the second quarter, Mount Pleasant got to within 21-17 in that quarter. Three straight layup baskets by Sadavia Porter put the Lady Cats back up by ten, 27-17. Porter had an eight point second quarter and the Lady Cats were up at halftime, 32-21. The second half belonged to the Lady Cats as they held Mount Pleasant to just 6 points each in the third and fourth quarter. The Lady Cat scored 36 second half points. Porter led the Lady Cats with 24 points and she had a team leading 7 assists. Tanton scored 19 points and had a team leading 11 rebounds. Jefferson had an 8 point fourth quarter to finish with 12 points. She hit 5 of 7 shots from the field and collected 8 rebounds. Imani Taylor had 5 points including a three point basket. Te'Arria Rose and Danielle Godbolt also hit a three-pointer apiece and had 3 points each. Jamia Hall added 2 points.
The Lady Cats made 3 of 9 three-pointers for 33% and they hit 7 of 14 free throws for 50%. The Lady Cats had 10 deflections and 17 steals. They committed 23 turnovers.
The Lady Cats end the first half of district play in first place with a 6-0 record. Their season record is now 20-3. The Lady Cats open the second half of district play at Greenville Tuesday night. The Lady Cats defeated Greenville at home back on December 12, 66-37. The Lady Cats have been district champions the past two seasons.