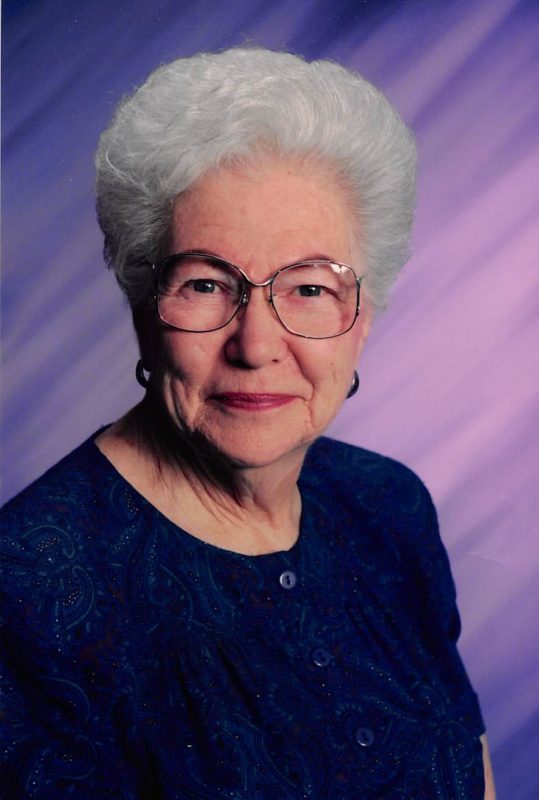 The life of Helen Marie Queen Threadgill will be celebrated at 11:00 a.m., Monday, January 15, 2018, at West Oaks Funeral Home in Sulphur Springs, Texas, with Charles Moore officiating. Interment will be Saturday, January 20, 2018, at the Shiloh Cemetery, Mt. Enterprise, Texas, at 11:00 a.m. Helen died January 11, 2018.
Helen was an exemplary member of the greatest generation. Her life priorities were her faith and service to God, her love of family and her love for her church family, friends, and neighbors. Her greatest pleasure was helping others. She was born in Fort Worth, Texas, August 10, 1920, and was always so proud to be a native of her hometown. She and Carroll Threadgill were married July 31, 1943, in Fort Worth and made their home there for nearly 59 years until his death in 2002. Helen attended Paschal High School and business school in Fort Worth and worked at the Fort Worth Public Library, Greyhound Bus Lines and for American Manufacturing Co. She and Carroll were devoted to their family and enjoyed being involved in their family activities. She was a member of New Hope Baptist Church and the Ladies Friendship Bible Class, Mansfield, Texas. Helen was a volunteer at Huguley Assisted Living where she loved calling Bingo for over nineteen years. She was also recognized as an outstanding citizen by the Rendon Fire Department for her support (pies, dinners, etc!) of that organization. She loved cooking and sharing with others.
She moved at the age of eighty-eight to be near family in Sulphur Springs, Texas, and joyously embraced her new life there. She loved her friends in her church at Calvary Baptist and treasured her new neighbors on Kelli Circle. It was a joy for her to cook for family, fellowship dinners at church and many friends. She always had baked goods or other treats to give to guests as they left her house! She also looked forward to playing Spinner Dominoes and Skip-Bo with her friends and loved the Dallas Cowboys. The last nine months of her life were spent at Wesley House Assisted Living and the Cottages at Carriage House where, again, she made more friends, but regretted that she couldn't cook for them!
Preceding Helen in death were her husband, Carroll, her parents Bert and Helen Hunter Queen and her sisters Sue Oliver, Lucile Rappoport, and Louise Labyak. Surviving Helen are daughter Monica and husband Joe Crouch, Sulphur Springs, Texas, and son Morris and wife Doris Threadgill, Stephenville, Texas. Her wonderful grandchildren are Joseph and wife Renee Crouch, Nathan and wife Liz Crouch and Samantha and husband Kenny Baxter all of Sulphur Springs, Texas; Michael Lewis, Crowley, Texas; Jim Lewis, Dublin, Texas; Robert Lewis, Medina, Texas; David and wife Dawn Lewis, Springtown, Texas; Patricia Lewis, Hico, Texas; and Tim and wife Chris Lewis, Stephenville, Texas. Precious great grandchildren are Chase Crouch, Sarah and Matthew Harper, Molly Crouch and Oliver Baxter, all of Sulphur Springs, Nichole Burmeier, Springtown, Texas; Paul Lewis, Arlington, Texas; Kelley Lewis, Bayside, New York; Kevin Lewis, Lamesa, Texas; Klint Lewis, Austin, Texas; Claire Lewis, Kerrville, Texas; Zachary Lewis, Marshall, Texas; McKayla, McKenzie and Heath Lewis, Springtown, Texas; Mariah and Bethany Cortez and Lane Whitehead, Stephenville, Texas; Courtney and Jonathan Ward and Jocelyn and Jacob Lewis, Stephenville, Texas.
Also surviving are nieces Brenda Smith, Patricia Parkman and Valerie Whiteley all of Fort Worth, Texas, and nephew David Rappoport, Surfside, Florida.
Helen lived with an "attitude of gratitude" and exemplified her motto with her generosity. To honor her zeal to help others, the family requests that in lieu of flowers, charitable contributions be made in her name to the Salvation Army, American Cancer Society or any charity of your choice. The family expresses special thanks to the caregivers at the Farm Cottage at Carriage House and Wesley Assisted Living. Thanks to Helen, we have many new friends!
Arrangements are under the direction of West Oaks Funeral Home. www.westoaksfuneralhome.com