By Savannah Owens
On Saturday, January 27th, 2018, Cumby High School hosted the VEX Robotics Competition. Twenty six teams from eleven school districts around Texas came to compete in the qualifying, and final elimination rounds of the Tournament. Most teams were comprised of 5-6 high school students with a few Jr. high groups.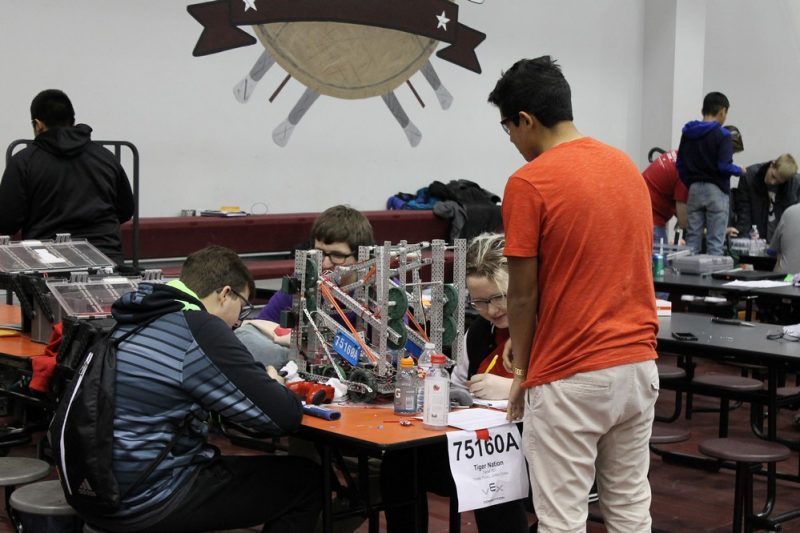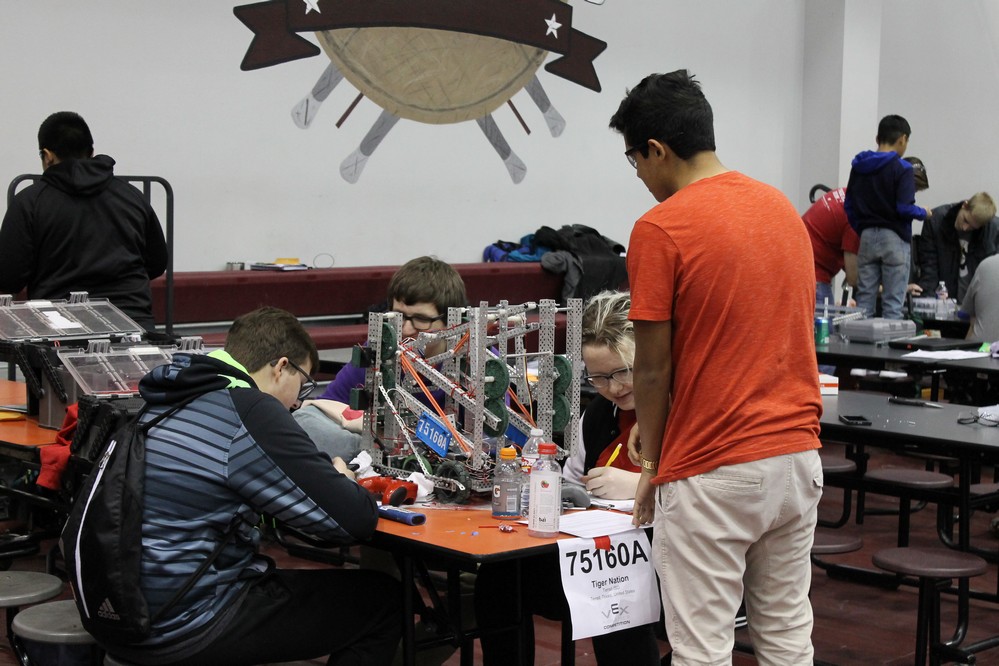 A lot of work goes into the final products.  Students plan, build, test, and rebuild their robots in the year before the competition. Some robots are worked on for 1500-2000 hours. For the competition each team is grouped with a team from another school to battle another group in the arenas.  The two robots must work together to stack cones on their goals, with each goal and cone being worth a certain amount of points. The points are tallied, groups are reshuffled and the next round begins. The matches are picked by a computer program, which uses algorithms to make sure the teams are matched evenly before the round begins.  At the end of the day the single team with the most points wins.  The winners of the competition will continue on to the State/Regional Championship, and the U.S. Open.
There is also a "skills" section where the teams are able to showcase their robot's talents. There's even an autonomous programming portion of the competition where the robots work without the driver controlling them for bonus points. The students must additionally keep a detailed notes and be able to articulate to the judges the various design choices and programming used with their robots.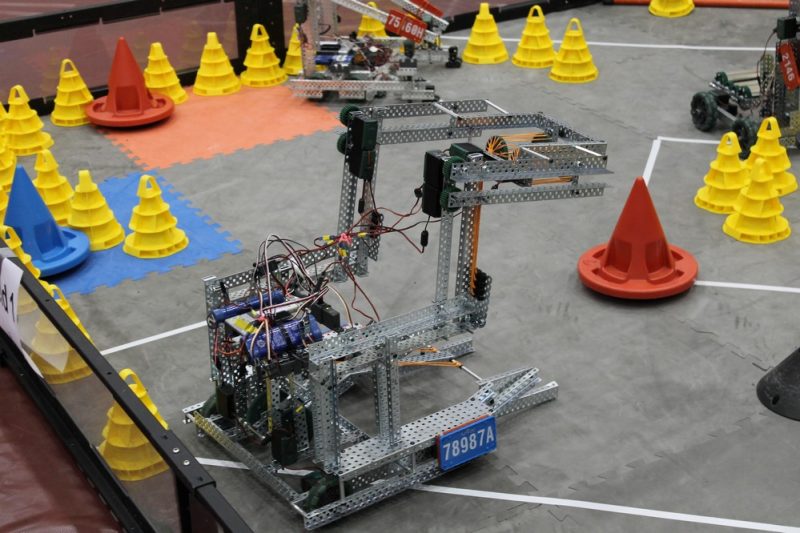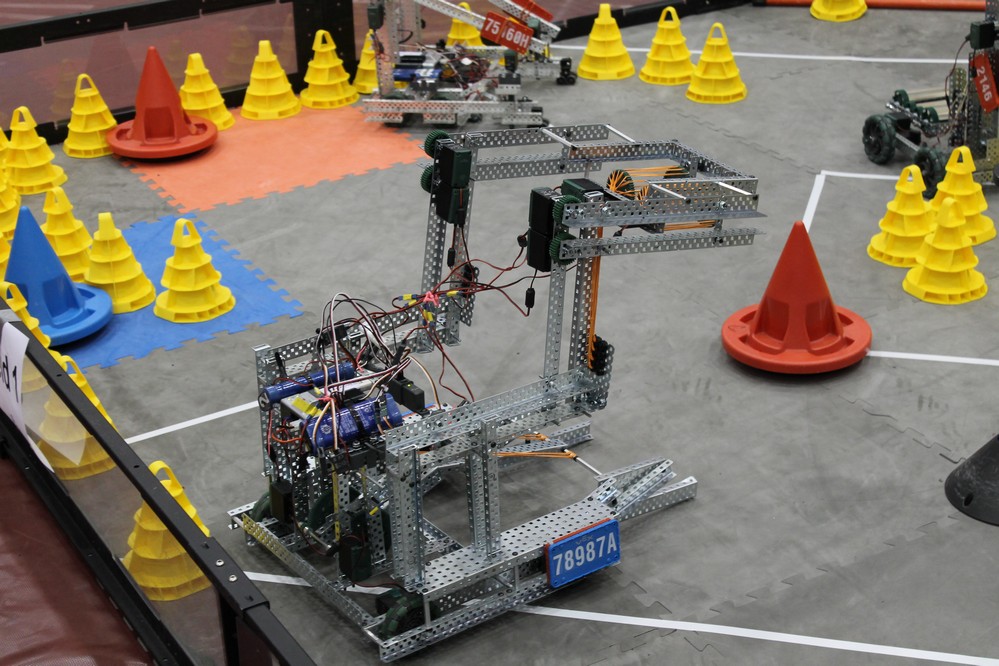 Many of the students enjoy the competitions because they can see other robots, and be inspired by the creativity of the other teams.  Ken Chapin, 2nd year robotics student and junior at Cumby HS, sat down with KSST to talk more about the tournament. Ken enjoys "the competition and challenge [the tournament] brings." He explained that each group works together to build one robot, and they work as a team to make improvements. Some of the members work on programming while others work on building. Ken is the team's main builder and driver, and explained that they "always have room for improvements." Next year, his team plans to add a 180 degree cone lifter, and an insert to be able to carry a mobile goal.
Ken's teammate Lacy Jacobs, a 3rd year robotics student and junior at Cumby HS, helps with everything, but her main focus is to write down everything in the notebook. This is monumental to the team, because she keeps track of the changes and designs for when they are creating their robot. Lacy's favorite part of the competitions is "Being able to work together and have a lot of fun."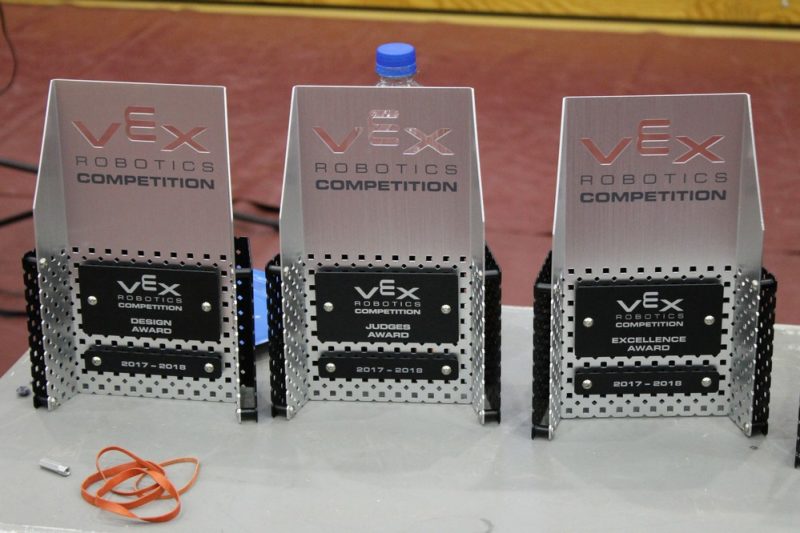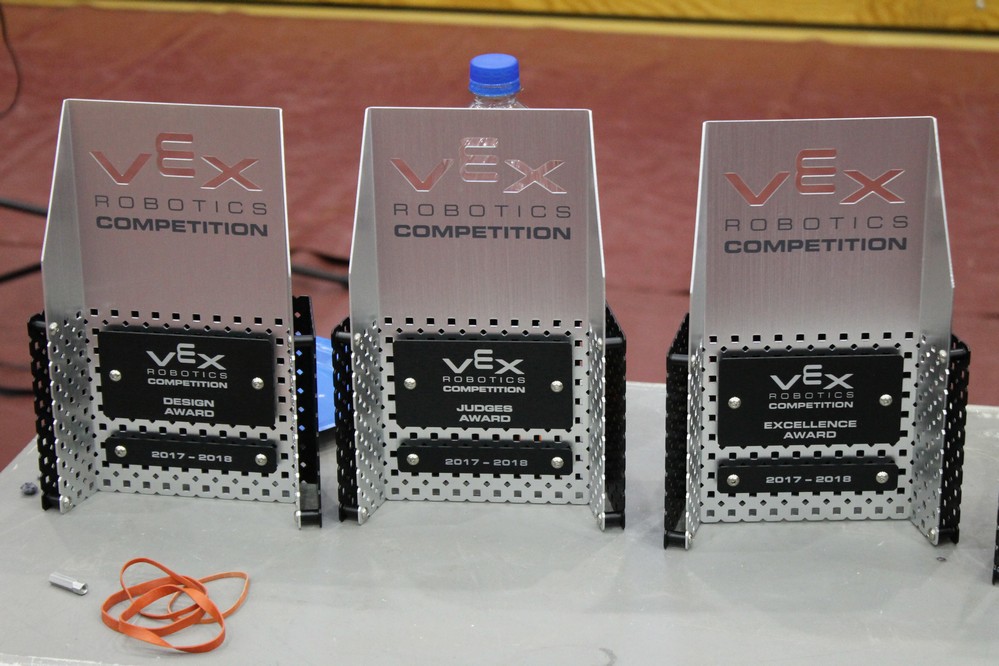 VEX Robotics Competition – Division 1 Results: 
| Award | Team # | Team Name | Affiliation | Location |
| --- | --- | --- | --- | --- |
| *^Excellence Award (VRC/VEXU) | 4148D | Iron Cowboys | Greenville High School | Greenville, Texas, United States |
| *^Tournament Champions (VRC/VEXU) | 4148A | Iron Cowboys | Greenville High School | Greenville, Texas, United States |
| *^Tournament Champions (VRC/VEXU) | 4148E | Iron Cowboys | Greenville High School | Greenville, Texas, United States |
| *^Tournament Champions (VRC/VEXU) | 75160X | Tiger Nation | Terrell ISD | Terrell, Texas, United States |
| Design Award (VRC/VEXU) | 6834A | Trojan Horse | Cumby High School | Cumby, Texas, United States |
| Judges Award (VRC/VEXU) | 4148D | Iron Cowboys | Greenville High School | Greenville, Texas, United States |
| ^Robot Skills Winner (VRC/VEXU) | 4148A | Iron Cowboys | Greenville High School | Greenville, Texas, United States |
* Qualifies for State/Regional Championship
^ Qualifies for CREATE U.S. Open