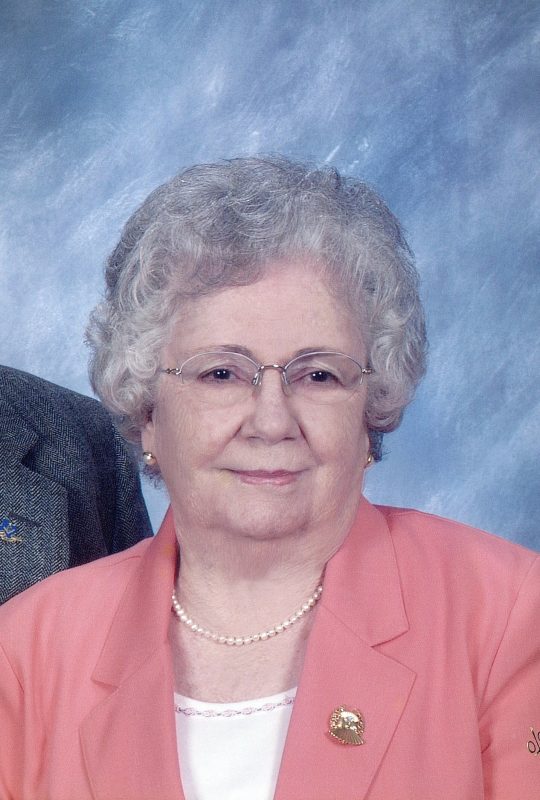 Funeral services for Christene Glenn, age 94 of Sulphur Springs, will be held at 2:00 pm, Monday, January 8, 2018 at First Baptist Church, Sulphur Springs, TX with Rev. Mark Bryant, Rev. Tommy Johnston, Rev. Fred Lewis, and Rev. Fred Randles officiating. Internment will take place at Restlawn Memorial Park Cemetery following the services with Jason Glenn, Nicholas Glenn, Cable Glenn, Jim Glenn, Tommy Glenn, John Glenn, Tony Hare and Brent Gibson serving as pallbearers.  Visitation will be held at 1:00 in the sanctuary prior to the service.
Priscilla Christene (Granny) Bartley Glenn was born to Elijah and Lillie (Veazey) Bartley on December 23, 1923 in Dike, Texas.  She married Joe Glenn September 28, 1946 in Hopkins County upon his return from WWII.  They made their home in Sulphur Springs and were the proud owners of a dairy for more than 40 years.  Christene was a homemaker and a faithful member of her Sunday School class, served on numerous committees, and was an active member of WMU at First Baptist Church.
Mrs. Glenn passed away on Saturday, January 6, 2018 in Sulphur Springs.
Survivors include her beloved son Timothy and wife Cathy of Sulphur Springs, grandsons Jason and wife Hayley Glenn of Sulphur Springs, Nicholas and wife Amy Glenn of McKinney and Zachary and wife Monica Glenn of Denton, the light of her life, her great-grandchildren, Cable Reed and Colbie Ann Glenn of Sulphur Springs, Lily Catherine, Georgia Elizabeth and Joey Turner Glenn of McKinney, Lulu Renee and Zefferana Christene Glenn of Denton and numerous nieces, nephews and friends.
Mrs. Glenn was preceded in death by her husband of 61 years, her parents and siblings.
The family would like to express their heartfelt appreciation for the care and concern given by the caregivers at Wesley House, where Mrs. Glenn resided.  As well as the numerous friends and loved ones who have shown us kindness during this time.
Memorials can be made to the First Baptist Church Sulphur Springs Building Fund.
Funeral arrangements are under the direction of Murray-Orwosky Funeral Home.