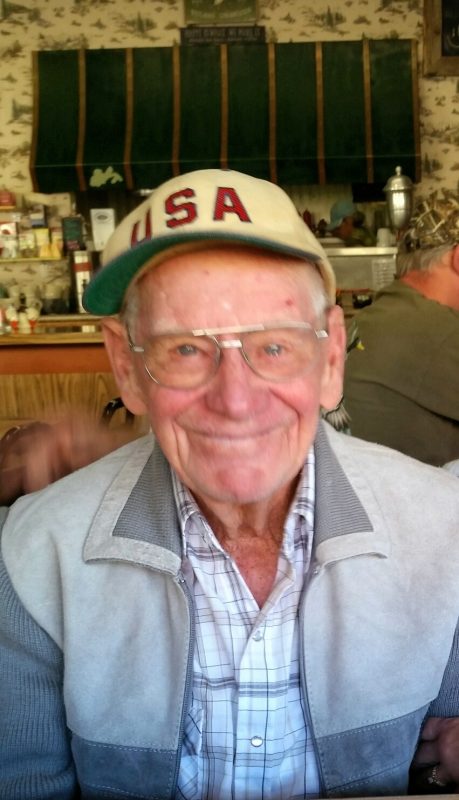 Graveside service for Benjamin Franklin "Frank" Moss, age 88, of Merrill, OR and formerly of Hopkins County, TX will be held 1:00 PM on Monday, January 8, 2018 at North Hopkins Cemetery with Rev. Bruce Stinson officiating.  There will be no formal visitation.  Mr.  Moss passed away at 4:00 p.m., Wednesday, December 27, 2017, at his residence in Merrill, Oregon.
Benjamin Franklin Moss was born in Dike, Hopkins Co. Texas on December 3, 1929, the son of Benjamin Franklin Moss Sr. and Zelma Martin and was known as Frank to his friends and family.  Frank was retired from the Carpenters Union, after retiring he was self employed with various jobs such as running a motel and running a dairy and several cattle ranches.   He was married to Barbara Ellen Fitzer and had 5 sons; Harvey Moss, Terry Moss, Timothy Moss, Jeffery Moss, and Rodney Moss; his siblings included Gertrude Smith, James Moss, William Moss, Gladys Fuller, Billy Jack Moss, Joesph Moss, Deryl Moss, Charles (Charlie) Moss, Brenda Hembree.  Frank was the grandfather to seven granddaughters, Francine Taylor, Laurie Godinez, Katie Beck, Heidi Davis, Dana Dertien, Angela Moss, Amanda Moss, and one grandson Benjamin Moss.  His great grandchildren include Jennifer Tenney, Timothy Moss, Kelly Godinez, Abigail Taylor, Tristin Brennan, Tanner Moss, Sarah Godinez, Eligin Godinez, Nathan Taylor, Maddie Davie, Frank Harzell; great great grandchildren Blake Tenney, Elijah Mosqueda, Sawyer Dertien, Ethan Moss, Miller Dertien, Delilah Tenney, Finley Dertien, Lana Moss.
He was preceded in death by his parents; wife, Barbara; sons, Terry Moss, Tim Moss, Jeff Moss and Rodney Moss; several brothers and sisters.
Funeral arrangements are under the direction of Murray-Orwosky Funeral Home.