SAM 973 entered active service in Aug. 1985, when the Air Force acquired the aircraft from the United States Customs Service. The aircraft was originally built in March 1969 at the Boeing Company, in Seattle. It was constructed as a Boeing 707-396C, serial number 20043. The aircraft was built with a large cargo door on the left side of the fuselage and began service as a cargo/passenger transport.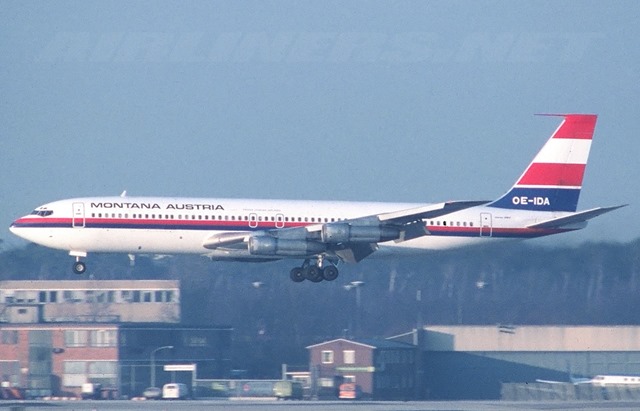 An Austrian leasing company operated the aircraft with the name "Montana Austria" on the fuselage serial OE-IDA. .In May 1981, the U.S. government was legally awarded the aircraft after the US Justice Department in Texas confiscated it for attempting to run U.S. arms from Houston, Texas to Durban, South Africa. The government stored the aircraft at Davis-Monthan AFB, Ariz. In Aug. 1985, the Air Force purchased the plane for $22,500, which at that time was the price of fuel needed to fly the plane out of the desert. This was no easy task. The plane was in disrepair. It had very little instrumentation and no operational navigation equipment. An 89th Military Airlift Wing crew flew the aircraft to E-Systems in Greenville, Texas using only freeways and roads as their navigation system.
The Montana Austria 707 arrived at E-Systems in Greenville, Texas on 15 August 1985 and departed to Andrews Air Force Base as VC-137C 85-6973 on 5 May 1990. During the time at E-Systems it was in a "stop work" order, and stored, from 22 April 1988 until 3 April 1989.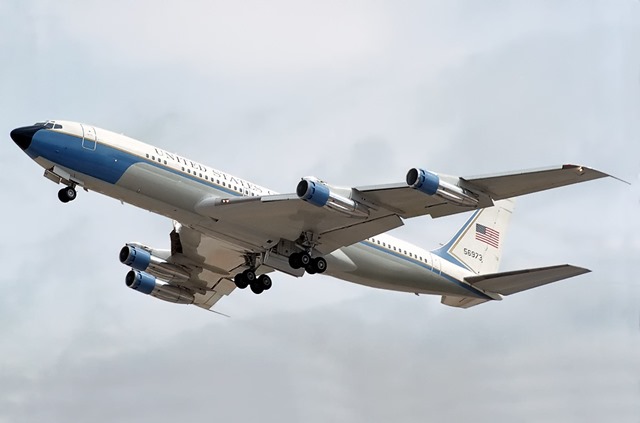 While in Greenville, the aircraft received the many modifications needed for converting it to a Special Air Mission aircraft. These included a stateroom with lavatory, conference area, staff compartment and passenger seating. The aircraft was also fitted with a Mission Communications System similar to the one installed on Air Force One. The airframe and all components were completely overhauled and replaced to essentially move the airplane back to zero time.
On May 5,1990, after the modifications were completed, SAM 973 was flown to Andrews Air Force Base, where it began operation as a DV transport. Upon arrival at Andrews the aircraft began operating as Air Force One backup and primary Air Force Two. When not supporting its primary roles, the aircraft flew in support of the 89th's mission of transporting our nation's leaders and other world heads of state around the globe. While assigned to Andrews, after nine years of service, SAM 973 accumulated a total of 48,089 flying hours, and 20,806 takeoff and landing cycles.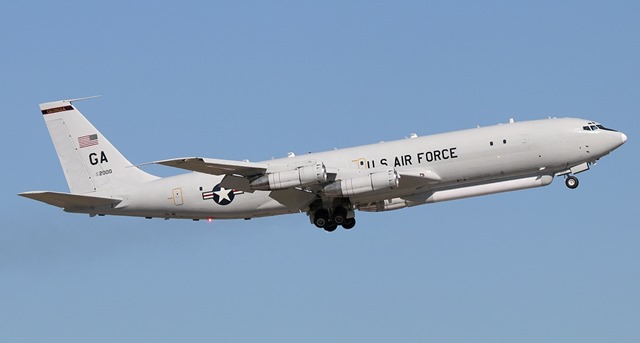 SAM 973 was transferred to the 552nd Air Wing, Tinker Air Force Base, Oklahoma in 1999, where it continued operation as an E-3 AWACS pilot trainer. In February 2000, the aircraft was transferred from Tinker to Lake Charles, Louisiana, where it was modified to perform duties as a J-Stars aircraft.
The included information comes from local Sulphur Springs resident Tony Hughes. Mr. Hughes worked on, performed engine run up, pre-flight/post flight and flew as an aircraft mechanic observer on FCF's (functional check flight), along with supervising hangar and flight line operations for over 40 years (1956-1996) at the Greenville, Tx. plant, formerly known as TEMCO. The Greenville plant started as Temco (Texas Engineering & Manufacturing Co.) and changed to Ling-Temco Electronics, Inc. in 1960, then Ling-Temco-Vought, Inc. in 1961. The company changed again to LTV Electrosystems, Inc. in 1965, and E-Systems, Inc. in 1972. In 1995 a merger changed the name to Raytheon/E-Systems, and now the company has been managed by L-3 Communications since 2002.