This is probably the most famous aircraft of all the Boeing 707 family, as it was operated as the personal aircraft of the President of the United States by the 98th Air Transport Squadron, 89th Military Airlift Wing, USAF, from Andrews Air Force Base near Washington D.C. Known as "Air Force One", VC-137C was the military VIP designation for this Boeing 707-320B, of which 62-6000 was the first delivered to the Presidential Flight. 

The aircraft was built at 
Boeing's Renton plant
 at a cost of $8 million.
On October 10, 1962, the first VC-137C arrived at Andrews Air Force Base, Maryland.  The aircraft was the first jet ever designed exclusively for presidential use.  It was essentially a Boeing 707, but had been specially modified. It was capable of traveling farther and faster than any other executive aircraft in the Air Force fleet.  It could also operate from much shorter runways. Most important, it was a flying "Oval Office," filled with electronic and communications equipment that permitted the President of the United States to direct all military forces and other government resources from the air, anywhere in the world.  It's tail number was 26000, and was commonly called  SAM 26000, "SAM" standing for Special Air Missions.  
President Kennedy felt that the airplane symbolized the United States.  Since it would often be traveling to other countries, he felt that it should have a distinctive look.  Since many of his flights would be diplomatic, he felt that it should not bear military markings.  He commissioned designer Raymond Loewy to come up with a new design. The result was a striking blue and white color scheme that has more or less carried to this day. In place of "United States Air Force," the words, "United States of America" was emblazoned on the side of the fuselage.  An American flag was painted on the tail, and because it would be the president's aircraft, a presidential seal was added on both sides of the nose.
Two days after arriving at Andrews, the aircraft made its first official flight, to Wheelus Air Base, Libya, to bring the country's crown prince to the United States for a visit. As the Cuban missile crisis loomed later that year, 26000 was used to bring senators and congressmen back to Washington since congress was not in session at the time.
President Kennedy flew 26000 for the first time in November 1962, when he and the first lady attended Eleanor Roosevelt's funeral in New York. In June Kennedy used the aircraft when he flew to Ireland and Germany, where he made his famous "Ich Bin Ein Berliner" speech. A month earlier, while taking a U.S. delegation to Moscow, 26000 broke 30 speed records, including the fastest nonstop flight between the United States and the Soviet Union.
SAM 26000 also flew the Kennedys on their visit to Dallas, Texas on Nov 22, 1963.  That flight would be the president's last. When news that the president had been shot reached aircraft commander, Col James Swindal, he prepared the aircraft for immediate departure. Vice President Lyndon Johnson was also in Dallas.  Fearing a conspiracy against the United States leadership, secret service agents rushed now-President Johnson to the safety of the Air Force One aircraft. Because the communications equipment of 26000 was superior to that of the aircraft that Johnson flew to Dallas, the decision was made that Johnson should wait aboard 26000 for Mrs. Kennedy and her husband's body. Crew members felt it would be undignified for the former president's body to ride back to Andrews in the cargo hold. They made room for the casket in the passenger compartment by removing seats from the rear of the aircraft. Before 26000 could leave Dallas, President Johnson took the oath of office on board the aircraft. At Arlington cemetery, as the president's body was being lowered into the ground, 26000 flew overhead at 1,000 feet and dipped its wings in final salute.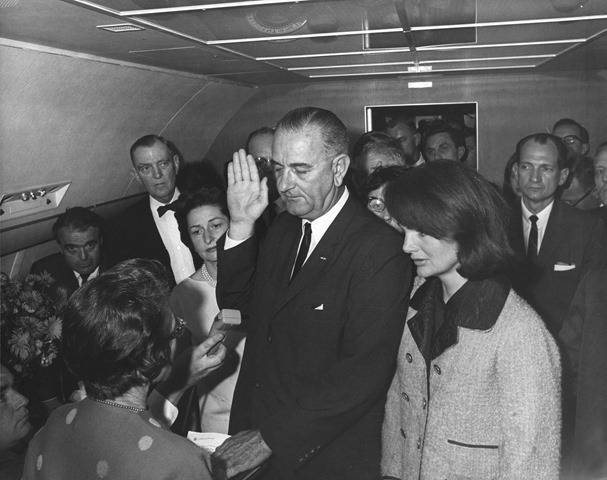 President Johnson reconfigured the interior of 26000. Additional seats were added, and the seats were reversed to face the rear of the aircraft – – toward the president's compartment. Johnson liked to be able to keep an eye on his passengers, and the cherry wood partitions that separated the passengers from the stateroom were replaced with clear plastic dividers. He also had installed a chair and large desk that could rise or lower at the press of a button. President Johnson used 26000 extensively on travels back and forth between Washington and his Texas ranch. He was also a world traveler and used the aircraft for his flights to Vietnam at the height of the war.
President Nixon was in office less than a month when he made his first trip abroad on 26000. However, shortly after he took office, 26000 underwent its first major overhaul. The aircraft was stripped to its metal shell from cockpit to tail. While engineers tested the aircraft's structure and systems, the interior layout was redesigned. The private quarters of the president were moved to the area forward of the wings, the most quiet and stable area of the aircraft. A staff compartment was built in the rear of 26000. One feature of 26000, which did not carry over into the Nixon administration, was the taping system on board. By orders of the president, the system that recorded all incoming and outgoing calls on 26000 was removed.
In July 1969 President Nixon flew aboard 26000 on a 13-day trip to six countries, culminating in a stop to meet the Apollo 11 crew. Beginning in 1970 National Security Advisor Henry Kissinger used 26000 to take the first of 13 secret meetings with officials from North Vietnam. Flying these secret missions was a major undertaking. They were even kept secret from the secretary of defense, secretary of state and director of central intelligence. In 1971 Nixon gave 26000 an official name, The Spirit of '76, in honor of the coming bicentennial. A year later the name would be transferred to the new presidential aircraft, SAM 27000, but most continued to refer to it as Air Force One. In February 1972 26000 flew President Nixon on his historic "journey for peace" to China, the first step in normalizing relations with the world's most populous country. 
On January 22, 1973, Lyndon B. Johnson died. 

Two days later

, SAM 26000 brought the former president's body from Texas to 
Washington, D.C.
 for the state funeral the following day.  After the funeral, which Nixon himself presided over, the aircraft returned his body to Texas for burial, landing at 
Bergstrom Air Force Base
 in Austin, the airfield Johnson flew into and out of when president.
In December 1972 SAM 26000 was assigned the role of backup presidential aircraft. The aircraft that replaced her as the primary presidential plane, SAM 27000, was another Boeing 707. Though they were similar aircraft, the Nixon family preferred the interior layout of the older plane, and traveled aboard her whenever the family flew together. 26000 served in the presidential fleet through four other presidents and even had a role in transition to the VC-25As (Boeing 747s) the president flies today. When state-of-the-art communications systems for the new aircraft were being developed, they were first tested on 26000. In 1981 26000 carried former presidents Nixon, Ford, and Carter to the funeral of Egyptian President Anwar Sadat. In 1983 she carried Queen Elizabeth II on a visit to the West Coast of the United States.
The last time SAM 26000 carried a serving president was in January 1998 when President Bill Clinton's 
Air Force One
, SAM 27000, got stuck in the mud in Champaign, Illinois at 
University of Illinois Willard Airport
. SAM 26000 was sitting at 
Grissom Air Reserve Base
 in Peru, Indiana, to serve as the backup Air Force One. SAM 26000 was quickly dispatched to Champaign to pick up President Clinton, who then flew to La Crosse, Wisconsin for an event and then flew the final presidential service flight from La Crosse to Washington D.C.
SAM 26000 left the primary presidential fleet in 1990, but in the years hence continued to make history serving America's leaders. Vice presidents, secretaries of state and defense, and congressional delegations used 26000 extensively. In January 1991 when Secretary of State James Baker flew abroad for talks with Iraqi leaders that would determine whether there would be war or peace, it was aboard 26000. Whenever the VC-25As were at Boeing for scheduled maintenance or heavy inspections, 26000 reassumed its role as presidential backup. 
VC-137C, tail number 26000, proudly served America's leaders for more than three and a half decades. Its list of passengers includes every U.S. president since John F. Kennedy up to and including President Bill Clinton, virtually every senior U.S. representative in the latter third of the 20 century, as well as kings and queens, and heads of state from nations all over the world. It has witnessed some of America's greatest tragedies, but has also witnessed some of its greatest triumphs.
Whether serving Presidents, Vice Presidents, Cabinet members, Congressional delegations, or foreign heads of state, 26000 served all with the same pride and dependability

. 

SAM 26000 takes into retirement a rich, honorable record of protecting America's interests both in good times and bad.
E-Systems Greenville, TX, performed depot maintenance and modifications on Special Air Mission (SAM) aircraft, including SAM 26000, for twenty years beginning September 1973, during President Nixon's time in office, through May 1994.
For a video about John F. Kennedy and His "Air Force One" SAM 26000 click here. 
The included information comes from local Sulphur Springs resident Tony Hughes. Mr. Hughes worked on, performed engine run up, pre-flight/post flight and flew as an aircraft mechanic observer on FCF's (functional check flight), along with supervising hangar and flight line operations for over 40 years (1956-1996) at the Greenville, Tx. plant, formerly known as TEMCO. The Greenville plant started as Temco (Texas Engineering & Manufacturing Co.) and changed to Ling-Temco Electronics, Inc. in 1960, then Ling-Temco-Vought, Inc. in 1961. The company changed again to LTV Electrosystems, Inc. in 1965, and E-Systems, Inc. in 1972. In 1995 a merger changed the name to Raytheon/E-Systems, and now the company has been managed by L-3 Communications since 2002.