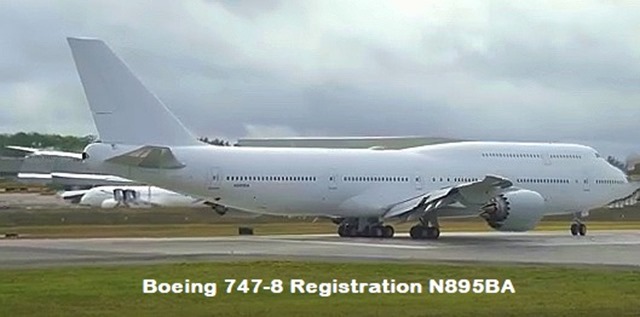 The Air Force awarded a contract modification to Boeing on Aug. 4, 2017, to purchase two commercial 747-8 aircraft for future modification to replace the two aging VC-25A Presidential support aircraft. The two 747-8 jets are built and have been in storage at the Southern California Logistics Airport (SCLA) in Victorville, California.
The decision to purchase ready-made commercial airliners instead of custom-built aircraft is part of President Trump's plan to keep the costs of the Presidential Airlift Recapitalization program under control.
The USAF expects to begin the conversion process in 2019 with the planes set to enter service in 2024 at which point the current pair of Boeing 747-200-based VC-25A will be 34 years old.
According to the USAF, modifications will include a mission communications system, electrical power upgrades, a medical facility, an executive interior, and a self-defense system.
Boeing confirmed that the purchase of the two brand-new jumbo jets was abandoned after Russia's Transaero went broke in late 2015. At the time of its demise, Transaero was Russia's second largest airline. While the country's national carrier, Aeroflot, absorbed many of Transaero's employees and aircraft, it declined to take on its fleet of costly jumbo jets. This included the four 747-8Is the defunct airline had on order with Boeing. Unfortunately for the airplane maker, two of the four Transaero planes had already been built. So instead of delivering the planes, Boeing completed flight testing and sent them to the California desert where they waited for a new buyer. Now, the planes are destined to take on the call sign, Air Force One.The tail numbers of the two 747s are N894BA and N895BA.
The included information comes from local Sulphur Springs resident Tony Hughes. Mr. Hughes worked on, performed engine run up, pre-flight/post flight and flew as an aircraft mechanic observer on FCF's (functional check flight), along with supervising hangar and flight line operations for over 40 years (1956-1996) at the Greenville, Tx. plant, formerly known as TEMCO. The Greenville plant started as Temco (Texas Engineering & Manufacturing Co.) and changed to Ling-Temco Electronics, Inc. in 1960, then Ling-Temco-Vought, Inc. in 1961. The company changed again to LTV Electrosystems, Inc. in 1965, and E-Systems, Inc. in 1972. In 1995 a merger changed the name to Raytheon/E-Systems, and now the company has been managed by L-3 Communications since 2002.