A tip regarding a large cockfight, a blood sport between two cocks, or gamecocks, held in a ring called a cockpit, sent Hopkins County Criminal Investigators, deputies, and their newly acquired drone to a location between Como and Sulphur Springs, just off State Highway 11. Around 200 gamecocks were seized at an established site for cockfights and were turned over to the SPCA Saturday.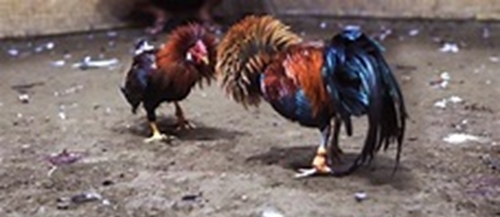 Using the drone to fly over the site, law enforcement was able to determine that a fight was in progress with around 70 individuals and just fewer than 200 birds involved. When those present at the fight site saw the drone, deputies were immediately dispatched to the area where they were able to make contact with 40 of the people involved. Another 30 people fled on foot from the scene into the woods around the area.
Investigators were able to determine the cockpit was permanent and that the site had been used before. Deputies began rounding up the chickens. Many of the birds were in small boxes scattered around the area after those present at the scene had spied the drone. Ten (10) birds in boxes were found under one cedar tree, according to Chief Investigator Corley Weatherford.
The investigation continues, according to Weatherford. No arrests have been made at this time. Cockfighting is illegal in Texas under chapter 42 of the Texas Penal Code. However, it is permissible under certain circumstances if "the actor is engaged in bona fide experimentation for scientific research", according to the code.