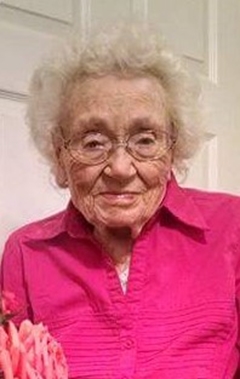 Funeral service for Alleta Rose Lumpkin, 95, of Cumby, TX, will be held at 3:00 p.m., Sunday, January 28, 2018 at Brashear Baptist Church with Bro. David Burns and Bro. Clyde Warner officiating. Interment will follow at Miller Grove Cemetery with Cody Shelton, Jonathan Kerby, Justin Riley, Brody Turnage, Colton Hicks, Chris McBreen, and Rick Avent serving as pallbearers. Visitation will be held at 2:00 p.m., prior to service time. Alleta passed away on Thursday, January 25, 2018 at Carriage House Manor.
She was born on October 11, 1922 in Fluvanna, TX, the daughter of Robert and Fannie White. Alleta was a homemaker all her life and of the Pentecostal Faith.
She is survived by son, Lawrence Robert Lumpkin of Commerce, daughter, Karen Culbertson and husband Steve of Miller Grove, grandchildren, Zachariah Lumpkin, Amelia McBreen, Sherlock Lumpkin, Clint Lumpkin, Jennifer Riley, Jaclyn Turnage, Jonathan Kerby, Megan Hicks, Cody Shelton, Travis Shelton, Annalisa Culbertson, Blanca Culbertson, 14 great-grandchildren, as well as several nieces and nephews.
She was preceded in death by her parents, daughters, Laurel Dawn Shelton, Lola Marcie Kerby, sisters, Zell White Magill, Evelyn Osborn, Mavis Wren and grandson, Brady Shelton.
Arrangements are under the direction of West Oaks Funeral Home.