Rick Wilson, Boy Scout leader and a member of the Hopkins County Historical Society was excited to explain the "Circle of Liberty" relocation to Sulphur Springs during a Good Morning Show interview.
On Saturday December 9, Rick and a crew of Boy Scouts and volunteers will begin the process of re-constructing the Boy Scout memorial inside Heritage Park at 468 North Jackson Street. As part of the recent merge of two Boys Scouts of America Councils…the 15-county NETSEO Council (North East Texas/South East Oklahoma) and Circle Ten Council (Dallas Area)… the Boy Scout Camp Dierks near Wright City, Oklahoma  was sold with the stipulation that the Circle of Liberty be preserved so that it could be reconstructed in a new setting. The hometown of it's builder, Dr. Robert Parker,  received the honor.  Actually, Dr. Parker and Paul Flanagan designed then built the memorial over a period of years. It's purpose was to honor Boys Scouts who worked to achieve the rank of Eagle Scout, Venturing Ranger and Quartermaster, as well as adult leaders who achieved the rank of Silver Beaver and Vigil. The Circle of Liberty was completed and dedicated in 2007, and contains over 2,000 names of local citizens and others from Texas and Oklahoma who have made Scouting a defining part of their lives. In 2012, the camp celebrated the 100-year anniversary of the first Eagle Scout designation. The Circle of Liberty will stand as a tribute to scouting of that era, and no new names will be added.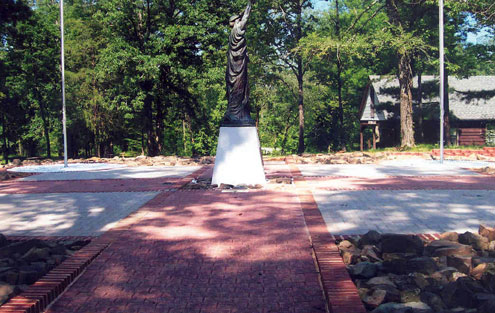 The Circle of Liberty will  feature four flagpoles, each 60 feet in diameter,  with a Statue of Liberty in the center and with crosswalks radiating outward, paved with brick with names of Scouts inscribed on them. It is to be located in the south end of the park along the gravel walk across from the Atkins House. A dedication ceremony will be announced with dignitaries, scouting families and the community invited to attend.
Below is a bit more history about the Circle of Liberty from a Camp Dierks archive.
Liberty Circle began as an idea of Lynwood Hogue of Ector, Texas; however Mr. Hogue passed away before its completion. It was his hope that this would serve as a tribute to honor Scouts and Scouters throughout the Council's territory. Ir was completed and dedicated in 2007.
The "Circle" centers around a scale model of the Statue of Liberty, which is one of only 16 presented to various members of Congress and/or state governors in 1951. This particular Lady Liberty was presented to the Scout Council by then-U.S. Congressman and House Speaker Sam Rayburn of Bonham. The area surrounding the statue includes four flagpoles (for U.S., Oklahoma, Texas and Boy Scout Council Flags) inside individual circles, enclosed by a larger circle, all interconnected with a pathway of bricks. There are more than 1,900 members of those three groups. Each individual is recognized for this achievement with a 4″ x 8″ brick with the individual's name, community and the year each award was earned.
Bonham and Fannin County, Texas have a long history of Scouting and for 55 years Lynwood Hogue signified the all the best of this fine tradition, with a vision and lifelong dream of honoring each and every Scout that earns the Eagle Award. For the record, Mr. James T. Griffis with Troop 58 was the first to receive his Eagle in Bonham. The Bonham area alone has over 200 names that have a brick laid in their honor. This impressive way to honor Scouts began as one man's dream and will continue to stand as a testament of the virtues of Scouting for generations to follow.