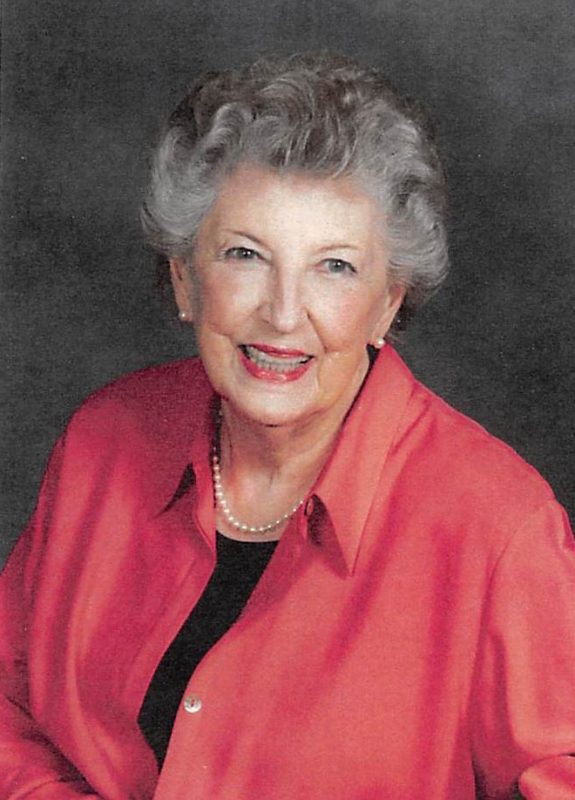 Bettye Sue "Suzy" Chancellor peacefully went to Heaven at age 89 on Friday, December 29, 2017, at St. David's South Austin Medical Center in Austin.  Bettye Sue was born on March 23, 1928, in Sulphur Springs, the daughter of Ben D. Wood and Lois M. King Wood. She married her husband of 71 years, Warren E. Chancellor at First Methodist Church in Sulphur Springs on September 1, 1946, he survives.
Following her graduation from Sulphur Springs HS she attended East Texas State College, earning a Degree in Education, and later a Master's Degree in Elementary Education.  Her teaching career – periodically interrupted by motherhood – spanned 24 years with stints in the Elgin, Saltillo, Sulphur Springs, and Rains ISD's.  Throughout those years she was involved in the development and implementation of various curriculum, textbook and teaching-method initiatives through her participation in Local and State Teacher's Associations.
Mrs. Chancellor and Warren lived in Sulphur Springs for their first 31 years of marriage before moving to Emory in 1977, where they resided until 1996.  A move to Sun City Georgetown followed, ending with their final move to Austin in 2015. Throughout her life, and in all of those locations, she remained active in numerous civic and church organizations, including playing an instrumental role in the founding of Wellspring UMC in Georgetown.
In their shared retirement, Suzy and Warren loved to travel, and enjoyed many memorable trips and cruises with friends and family to various North American and European destinations.  Their U.S. explorations often followed their beloved Texas Longhorn teams – including an amazing 69 consecutive trips to the not-so-exotic Fair Park in Dallas for the Texas/OU game.
Her most passionate "loves", though, unquestionably centered on her family to whom she truly devoted her life.  Always caring, gentle, patient and loving, she embodied those best attributes of Wife, Mother, Grandmother, and Great Grandmother to all who were graced by her gifts.
In addition to her beloved husband she is survived by son, Warren Chancellor, Jr. and wife Vaughn of Houston, daughter, Gina C. Reese and husband Don of Austin, grandchildren, Will Chancellor of New York, NY, Walt Chancellor and wife Nicole of Houston, Alison Spurlock and husband Matt of Austin, Andy Reese and wife Alyssa of Austin, great-grandchildren Vivian Chancellor, Counce Chancellor, Beatrix Chancellor, Reese Spurlock, Ryan Spurlock, Lila Spurlock, and Chancellor Reese. She was preceded in death by her parents and a brother, Ben Derryl Wood.
Funeral services for Mrs. Chancellor will be held at 3:30 p.m., Saturday, January 6, 2018, at Myra Wilson Chapel with Rev. Charles Moore officiating. Interment will follow at Sulphur Springs City Cemetery with Will Chancellor, Walt Chancellor, Andy Reese, and Matt Spurlock serving as pallbearers.  There will be no formal visitation, but friends and relatives are invited to attend a celebratory gathering at Sulphur Springs C.C. following the service.  Arrangements under the direction of West Oaks Funeral Home. www.westoaksfuneralhome.com
In lieu of flowers the family has suggested that memorial gifts be directed to The Darrell K. Royal Research Fund for Alzheimer's Disease www.dkrfund.org , or the Children's Charity of your choice.