The following information comes from local Sulphur Springs resident Tony Hughes.  Mr Hughes worked on, performed engine run up, pre-flight/post flight and flew as an aircraft mechanic observer on FCF's (functional check flight) at the Greenville, Tx. plant, formerly known as TEMCO.  The Greenville plant started as Temco (Texas Engineering & Manufacturing Co.) then changed to Ling-Temco Electronics, Inc. in 1960, then Ling-Temco-Vought, Inc. in 1961.  The company then changed it's name to LTV Electrosystems, Inc. in 1965, then E-Systems, Inc. in 1972.  A merger changed the name to Raytheon E-Systems in 1995, and now the company has been managed by L-3 Communications since 2002.
The Douglas VC-54C Skymaster is the first aircraft purpose-built to fly the President of the United States. Carrying the staff transport "VC" designation, the aircraft was officially named The Flying White House. However, the aircraft became better known by its unofficial nickname, Sacred Cow, a reference to the high security surrounding the aircraft and its special status.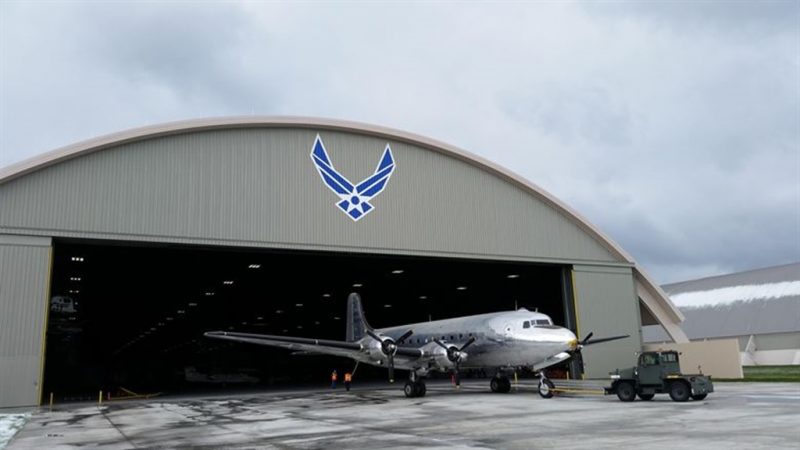 As the only VC-54C built, the aircraft was heavily modified on the assembly line. A C-54A fuselage was fitted with wings from a C-54B which offered greater fuel capacity. The unpressurized cabin included an executive conference room with a large desk and a rectangular bulletproof window. For additional comfort, a private lavatory was installed next to the president's seat, and a fold down bed was concealed behind the sofa. An electric refrigerator in the galley added an uncommon luxury for 1945. A battery-powered elevator was installed at the rear of the aircraft which allowed President Roosevelt to board the aircraft easily while in his wheelchair.
The Sacred Cow carried President Roosevelt to the Yalta Conference in February 1945. Illustrating the high stakes associated with presidential airlift, the Sacred Cow's serial number was changed for the flight as a special security measure. The trip to Yalta was Roosevelt's only flight aboard the aircraft before his untimely death in April 1945.
Roosevelt's successor, Harry S. Truman, used the aircraft extensively during the first 27 months of his administration. On July 26, 1947, President Truman signed the National Security Act of 1947 on board the Sacred Cow. This act, which became effective on Sept. 18, 1947, established the US Air Force as an independent service, making the Sacred Cow the "birthplace" of the US Air Force.
After the Sacred Cow left presidential service, the USAF continued using it for other transport duties until the airplane was finally retired in October 1961. In 1983, the Sacred Cow was transported to the National Museum of the U. S. Air Force, at Wright-Patterson AFB OH 45433 (near Dayton), and staff began the monumental task of restoring the aircraft to its former glory. After ten years and more than 34,000 hours of work, the aircraft was placed on display appearing as it did during President Roosevelt's trip to Yalta.