Abron Signs With Seton Hall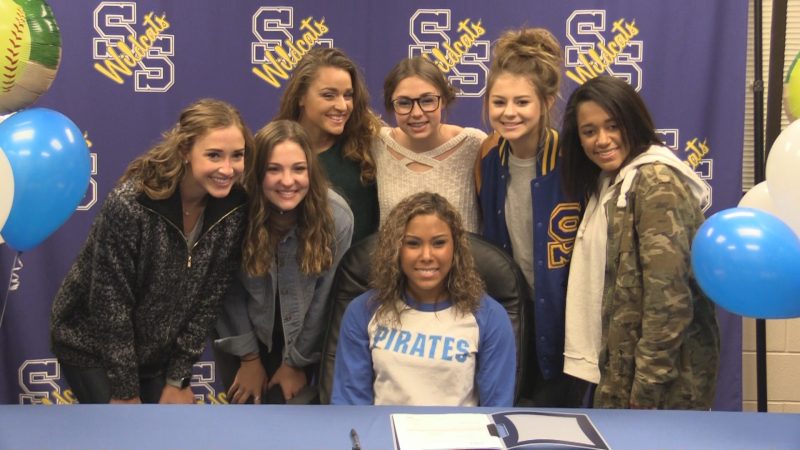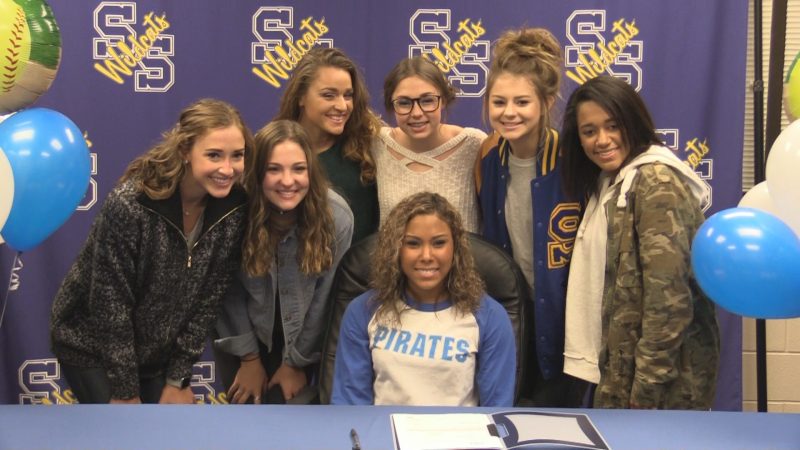 During a Colorado tournament involving her traveling softball team, Lady Cats outfielder Alyssa Abron received a scholarship offer to play softball from Seton Hall. Abron was a freshman at the time but she committed to the South Orange, New Jersey Big East university. That long time commitment became final Wednesday morning as Alyssa Abron signed a letter of intent. The signing was attended by quite a few of her fellow students, her family members and her Lady Cats' softball coaches. Alyssa is the daughter of Triston and Misty Abron. Abron said when she visited the campus in South Orange, she loved it. She added it is a small town like Sulphur Springs. She knows it's cold up there but she says she will adapt. Abron says she believes she will be playing left field and hitting near the top of the line up for the Pirates. She says Seton Hall has been a pretty good team and she says the program is growing. Abron says she is pleased that several other Texas girls will be joining her in South Orange. Alyssa Abron's career plan is to get into OB-GYN.
Caddell Signs With University of the Ozarks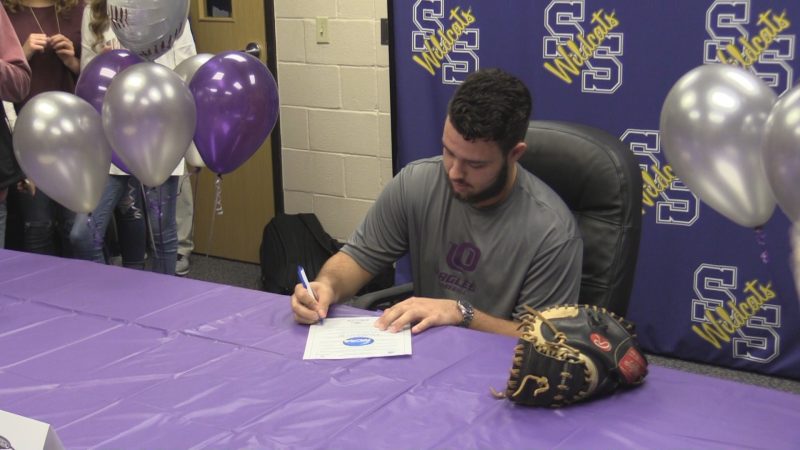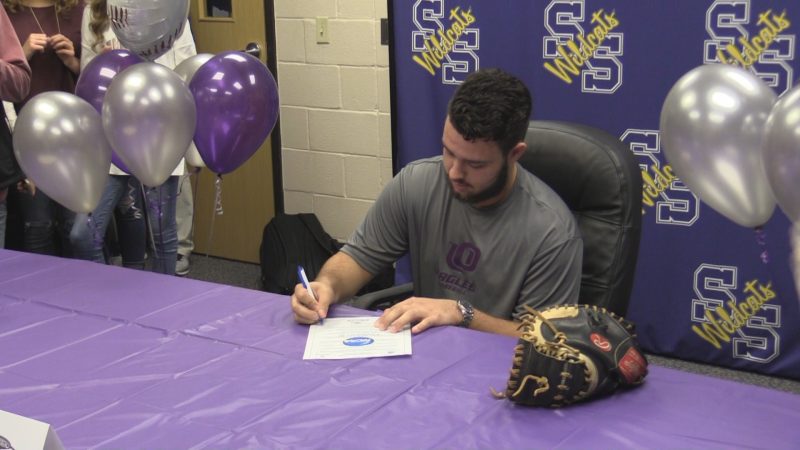 Wildcats' baseball catcher Ryder Caddell signed a letter of intent to play college baseball at the University of the Ozarks in Clarksville, Arkansas Wednesday morning. Ryder is the son of Jake and Meredith Caddell. Caddell says one of his buddies played tennis at University of the Ozarks and told him about it. Caddell says he researched the university and determined it to be a good fit. He says Clarksville is an awesome town. He says it is a small, close knit town like Sulphur Springs. Caddell says he expects to start catching once he gets there and he hopes to catch there for four years. He attended one of their camps and then verbally committed when they made an offer. His mother, Meredith Caddell, says this signing day was something Ryder has worked for since he started playing baseball at age four. She says he has worked really hard to make it happen. Ms. Caddell says the four and a half to five hour drive is not too bad.
Kaylee Jefferson Signs With East Carolina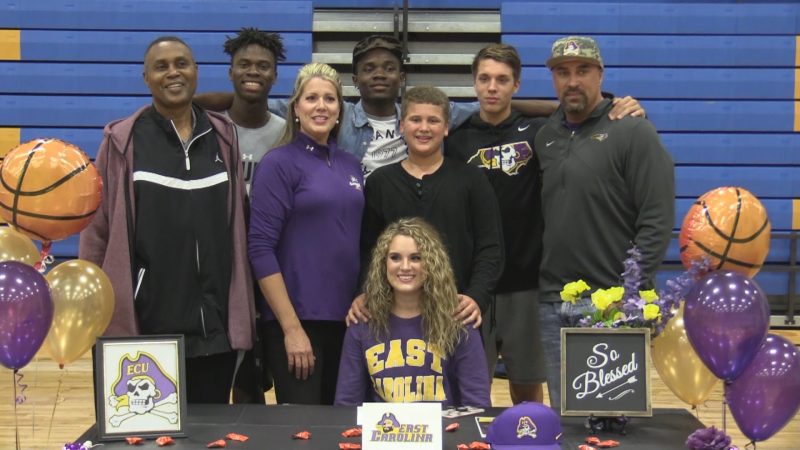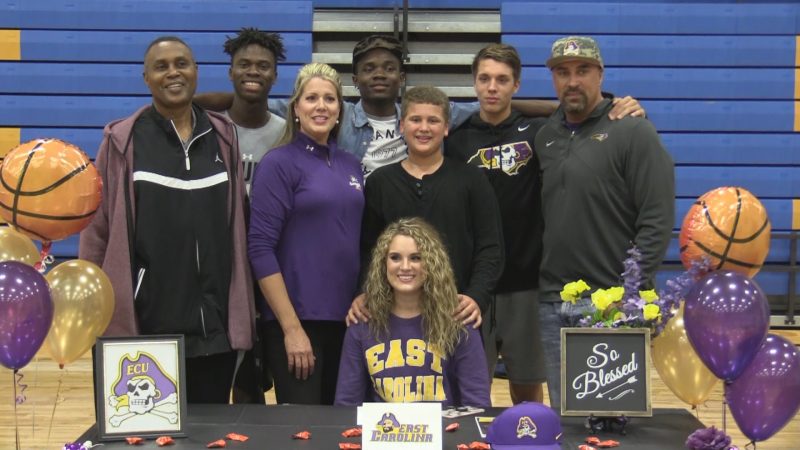 In the long coaching career of Lady Cats Basketball Coach Jeff Chapman, he has never had one of his players commit and then sign with a Division 1 School, until Tuesday. Tuesday afternoon in the main high school gym at Sulphur Springs High School, four-year Lady Cats varsity basketball player Kaylee Jefferson signed a letter of intent to play college basketball at East Carolina in Greenville, North Carolina. The Pirates play in the American Athletic Conference, which includes teams such as perennial #1 ranked UConn, SMU and Houston. Kaylee is the daughter of Michael and Carrie Jefferson. Kaylee said East Carolina hosted a Nike tournament that she played in in Virginia. They began to recruit her and she visited the Greenville campus. Kaylee said East Carolina was a good fit for her. She liked the coaches and said Greenville felt like home. Kaylee said East Carolina has had success in the past. She said they had some new coaches now that are building the program and she said she wants to be a part of that. Kaylee said she visited the campus and loved it. She added the campus was beautiful and she said she liked the college town. Kaylee said she wants to become a radiologist so she plans to major in biology or bio-chemistry. Coaches tell her she will play small and big forward. Kaylee hopes she can create mismatches with her ball handling skills. She called the recruiting time long and hard. Kaylee said she was happy with her decision. She believes this season will be a very good one for her and the Lady Cats. Kaylee said she has enjoyed her time here and has loved it all.